Datsun had confirmed a third model for the Indian market that was widely regarded as the production version of the Redi-Go concept. However, the latest reports indicate the Nissan-owned brand has put the plan on hold and the company will be launching Go-cross concept crossover in India in 2016.
The reason for the change is reportedly due to the immense demand for SUVs in India. The Redi-Go is a small car, while the Go-cross is a crossover with SUV attributes such as raised ground clearance. The Go-cross is based on the same platform of the Go hatchback and Go+ MPV. Hence, it would easier for Datsun to come up with the final product in a short span of time. On the other hand, the Redi-Go is based on the CMF-A platform that has been developed from the alliance with Renault. Since Redi-Go is based on the new platform, the company seems to need more time perfecting the vehicle reports Motor Octane.
The Redi-go will be powered by a three-cylinder petrol engine with five-speed manual transmission and with reports of an automated manual transmission (AMT) variant as well.
The Go-cross is fresh from the oven and was unveiled at the 2015 Tokyo Motor Show held in October. The design of the Go-cross is typical to the crossover standards with raised ground clearance. The off-road potential is highlighted with skid plates in the front, rear and sides.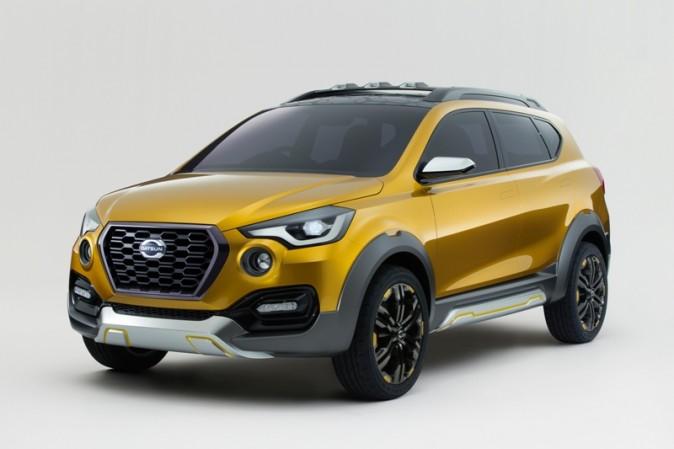 The concept sports hexagonal grille in line with the other Datsun model finished in black colour. The fog lamp placed near the headlamp unit resembles the last generation Skoda Yeti crossover, which is known for its funky styling. The LED lights are mounted within the air dams on the lower front part.
The rear gets less boxy design as compared to the Go+ MPV. The tail lamps in the concept also feature LED strips inside the cluster. Other notable additions are large alloy wheels in dark shade, roof rails and roof-mounted spoiler.