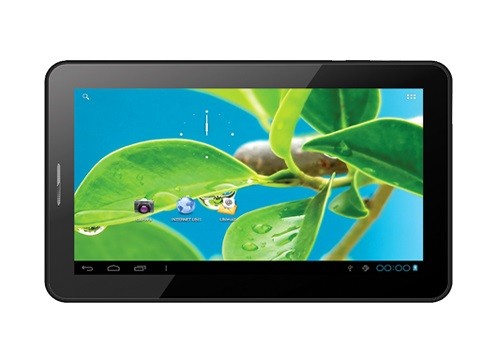 Canadian wireless web access service provider DataWind, which known for developing Aakash tablet, dubbed as world's cheapest tablet, for India's Ministry for Human Resource Development, is set to bring cheapest Android phone with free internet for lifetime to India.
The company on Thursday made the official announcement to come up with a low-cost smartphone with a price tag of ₹2000 before Diwali this year and hope to double the its sales with the new device by the end of the year, according to a report by India Today.
The report went on to say that the new low-cost smartphone will sport a 3.5 inch screen size and run on Android OS but no further detail of the device was revealed. The company is apparently in talks with three mobile service providers for free lifetime internet service to the owners of the device but Datawind's Executive Vice President Rupinder Singh refused to reveal more about the deal.
The move to get into low-cost smartphone could be taken as a business strategy after its Aakash Tabs were disapproved by IIT Jodhpur before being asked to improve the quality of the devices by IIT Bombay.
Interestingly, DataWind's upcoming Android smartphone will have to take on Jivi's recently launched handset called Jivi JSP 20, which also claims to be the cheapest Android smartphone. Having a price tag of ₹1,999, both the devices from DataWind and Jivi belong to same price bracket.
The Jivi JSP 20 sports a 3.5-inch (320x480p) display, powered by a 1GHz processor and runs on Android 2.3.5 Gingerbread. It comes with a 256MB internal memory with microSD card slot up to 32GB, a 2MP rear camera with an LED flash and a 1350mAh battery. It also supports Bluetooth, and Wi-Fi.
The device is available for pre-order from Amazon and shipping will begin on 25 September. The company has offered a flip cover worth ₹499 for customers, who pre-order between 18 and 24 September.
Intex has also joined the low-budget smartphone market in India by launching Aqua T2 at ₹2699. The device sports a 3.5-inch (320x480p) display, powered by a 1.3GHz MediaTek MT6571 dual core processor, runs on Android 4.4 KitKat, and have 256MB internal storage with 512MB RAM. It also has a microSD card slot that can support 32GB.
(Image Credit: DataWind Website)