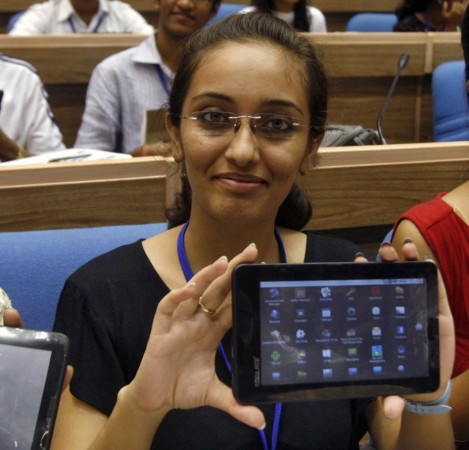 Datawind, the maker of the word's cheapest tablet Aakash, has denied claims that Aakash 2 is a cheap Chinese import.
India's ambitious, ultra low-cost tablet Aakash has been dogged by problems ever since its launch in 2011. The tablet is caught in yet another controversy, as a media report has made allegations saying that the much-anticipated indigenous tablet has in fact been designed and manufactured by a Chinese firm.
Hindustan Times first reported, quoting an anonymous source, that the British company Datawind's manufacturing partner, Hyderabd-based VMC, had not produced any device over the past couple of months and that the company had swindled the Indian government by supplying parts that were produced in China.
However, Datawind CEO Suneet Singh Tuli denied the report, calling it "inaccurate and misleading." He said that the company followed the business strategy of Apple Inc and uses subcontractors to manufacture its products.
"Our business model is similar to that of Apple where we use subcontract manufacturers to build our products. So, these are built in facilities of our contractors. For the first 10k units for IIT, and for expediency sake we had the motherboards and kits manufactured in our Chinese subcontractor's facilities, and then the units have been 'kitted' in China at various manufacturers for expediency, whereas the final assembly and programming has happened in India," Tuli told website Pkr.in.
Tuli also mentioned that the company could not bring together the Indian manufacturers during the production of the next generation Aakash tablet that was launched in the country earlier this month by President Pranab Mukherjee.
"We also have four partner manufacturers across India that will work on the deliveries to the government but we just couldn't get them started to assemble our new Aakash-2 units in time, but they will start to ship early in December," Tuli added.
The cheapest tablet of the country was developed by the government with the purpose of linking the nation's 25,000 colleges and 400 universities in an e-learning programme. The government sells the tablet for a subsidized cost to give students access to technology.