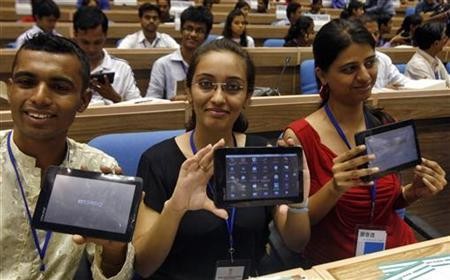 Seeking to address the concerns of the Human Resource Development Ministry (HRD) over the delay in supply of Aakash-2 tablet, DataWind CEO has finally issued a statement over the production issues.
Suneet Singh Tuli, CEO of DataWind said, "The delay was caused by the verifications process that Customs needed to conduct on the Exemption Certificates for certain components issued by IIT-Bombay," reported FirstPost.
"In addition to the four new manufacturing partners for the Aakash 2 tablets in India, DataWind has set-up India's first touch-screen lab in Amritsar, furthering its goal to establish and grow India's high-tech manufacturing Industry," he said adding that DataWind is committed to the Indian Government's flagship Aakash tablet project.
Out of one lakh tablets ordered by the government, DataWind has only delivered 17,100 tablets to IIM-Bombay (executing body for the project). Now, Tuli has confirmed that 29,400 tablets are currently en route to the IIM-B campus. And other 23,500 finished devices are being readied for shipment and the remaining 30,000 devices are in the final stage of the assembly process.
A few days ago, HRD minister Pallam Raju had voiced dissent over the repeated delays of the Aakash-2 shipments.Minister Raju had reportedly said that he would take a call on future prospects of Aakash tablet after he receives the report from a review committee headed by NIIT co-founder Rajendra Pawar to study the feasibility of Aakash tablet in the government's flagship education program 'National Mission on Education through Information and Communication Technology'.
The government had also put a hold on its production plans for third-generation Aakash-3. The HRD ministry had earlier planned to float a tender for 50 lakh Aakash-3 tablets with SIM slots to be released later in the year end.
The news had caused many to believe that the Aakash tablet project, a brain child of former HRD minister Kapil Sibal, would end in a premature death. However, DataWind CEO's statements have re-enforced some optimism that the affordable Aakash tablet would meet its objective of bridging the technology gap between rural and urban students.