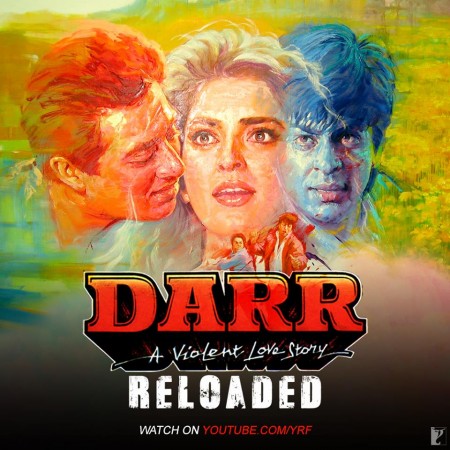 Shah Rukh Khan cemented his name in the film industry with his role of a baddie in super-hit movie "Darr" (1993), and now makers of the film have created a small video titled "Darr Reloaded" that revisits the violent love story. Produced by Yash Raj Films, the film also features Sunny Deol and Juhi Chawla in lead roles.
The video shows some of the best scenes from "Darr". Shah Rukh's iconic way of calling Juhi Chawla "Kiran" with a stammer is from the same film and "Darr Reloaded" almost shows the entire story of the film in just one minute 45 seconds.
Yash Raj Films created the video and shared it on Facebook with the hashtag #DarrReloaded and a caption that reads, "Caught between love and obsession. A violent love story revisited." Shah Rukh plays the role of a psycho lover, who is obsessed with Juhi Chawla. Sunny Deol plays the role of Juhi's love interest. The movie shows how Shah Rukh creates problems in the lives of Juhi and Sunny.
Although SRK played a negative role in the film, the actor was highly appreciated for his performance as a psycho lover. Directed by Yash Chopra, "Darr" is till date one of the best romantic psycho thrillers of Bollywood. The film was not only appreciated by the critics, it reportedly became the third highest grosser of 1993, after "Aankhen" and "Khalnayak". Check "Darr Reloaded" below: