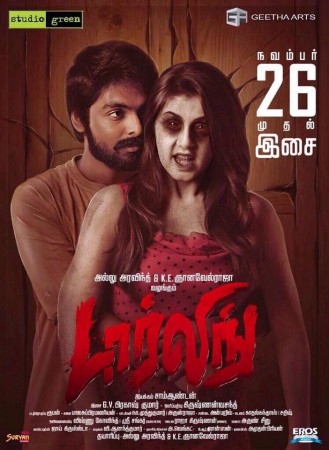 GV Prakash-starrer "Darling" has received decent reviews from critics.
"Darling" marks the acting debut of music composer GV Prakash. The horror comedy entertainer, directed by Sam Anton, is a remake of Telugu film "Prema Katha Chitram." The film's other cast members include Srushti Dange, Bala Saravanan, Karunas and Rajendran among others.
The Telugu version of the film fared well at the box office and it needs to be seen if the Tamil version will impress the audience.
Plot: The film starts off with a couple getting murdered in a guest house. In the present, four people -- GV Prakash, Bala Saravanan, Karunas and Nikki Galrani – arrive at the guest house and decide to commit suicide for their own reasons. Soon, they realise that the place is haunted. What happens next forms the crux of the story.
Critics have appreciated GV Prakash's performance citing it as a perfect debut for the actor. Karunas and Bala Saravanan's performances are the major hightlights of the film. The technical aspects of the film have received positive feedback from the critics. On the flip side, the makers seem to have used a regular template for the ghost character and have not really added anything new to the character's looks and sounds.
Overall, "Darling" is an enjoyable horror entertainer for the festive season.
Check below the review roundup of "Darling"
"Darling is a perfect launchpad for GV Prakash as an actor and his innocent face fits the bill perfectly while Nikki Galrani is cute and adorable, she is quite good at emotional sequences as well. But the real show stealer is Karunas who evokes constant laughter throughout the movie. In the later part, Ghost Gopal Varma (Rajendran) joins the party and made the movie even more enjoyable," according to Sify.
"Darling is cloaked as a horror film but focusses solely on the comedy part with scant regard for the horror part. Debutant director Sam Anton has still managed to keep the audience engaged throughout with a simple plot and enjoyable performances. GV Prakash, who debuts as a lead hero, has an easy task at hand and perfectly done what the script required him to do," stated MG Vijayan of OnlyKollywood.
"Newcomer Sam Anton has used the limited resources, viz. actors, locations and budget effectively. Although most part of the movie unravels inside a house, the sequences and hilarious conversations keep the audience engaged. The scares are less, but they work on the screen well whenever they appear," said Sai Shyam G of iflickz.
On the technical aspects, Behindwoods Review Board stated, "GV Prakash hits the bull's eye with his songs and background scores too. Krishnan Vasant's visuals are sharp and his tastes in lights seem impressive. Special mention to editor Ruben, whose cuts are precise and enhance the run. Impressive special effects ('Naan Kadavul' Rajendran's Ghost Rider version is a good instance) and a good work with the sound designing contribute to the film's technical strength."
Verdict: Enjoyable Horror Film