"Darling" is the Tamil remake of successful Telugu movie "Prema Katha Chitram". Well-known music director GV Prakash Kumar has made his acting debut in the Tamil movie.
The movie has been directed by Sam Anton and jointly produced by Allu Aravind and Gnanavel Raja. While Sudheer Babu and Nanditha Raja had starred in the original movie, GV Prakash and Nikki Galrani are seen in the same roles in the new version.
GV Prakash is also the music-composer of "Darling". Krishnan Vasant is the cinematographer and Ruben is the editor of the movie. Below are the reviews of "Darling". It is a horror-comedy of three people, whose suicide attempts go haywire after they land in a beach house.
The comedy elements and the peformance of the supporting cast have been praised by critics and audience. Below, we bring you the audience live response.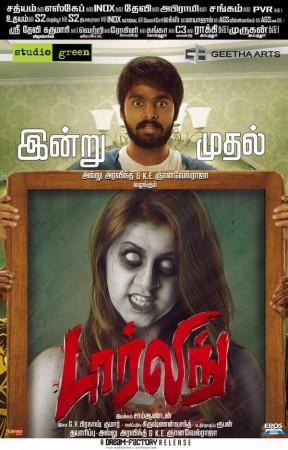 Only Kollywood Posts:
#Darling - The perfect festival entertainer!
#Darling: Quick, fun & entertaining. Bala & Karunas gigs highly works! Theater awaits for Ghost Gopal Varma. #Interval @gvprakash
Kollywood Cinema Writes
#Darling 3.5/5 @AntonyLRuben perfect editing. No were movie is drag. Thanks for the Superb cut. Crisp timing 2 hour 9 Min. Very Good Ruban
Haricharan Pudipeddi
#Darling icing on the cake is Rajendran as Ghost Goal Varma. Leaves you in splits in his cameo. Well done
#Darling belongs to Bala and Karunas. Two underrated comedians who make you root for them. They make an excellent pair in the film
#Darling @gvprakash makes a surprisingly impressive debut as an actor. @nikkigalrani chips in with equally good performance.
#Darling a laugh riot. Much better than other two festival releases. Karunas and Bala were brilliant. It's funnier than the original version
Cinema Calendar Posts
#Darling: @samanton21 looks very familiar with this script and the coherence of the script flows on screen, tying us to the seat.
#Darling: Quirky, Whimsical funny Film to watch, commendable acting debut for @gvprakash
Saravana Kumar Wrote
#Darling won the pongal race. #Gv & Heroin acting pakka..!! Karunas & Bala comedy Sema.. Rating 3/5 @gvprakash congratulate bro
Vijay Maniac Posts
#Darling Review- Hardly find Negative..Good BGM and story drives with same beat till the end..melody and fun worked out..Rating-4.25/5 (3/3)
#Darling Review- The film starts well..good characterization of all...leaves you engaged throughout..endless Fun.Rating-4.25/5 (Go 4 it)2/3
#Darling Review- A Mix of Thrill & Comedy that drives the film..Best Packaging of Script & leaves you stuck 2 the seats..Rating-4.25/5 (1/3)
Vigneshwaran Posted
#darling : Super fun ride. If you forgive gv S awful acting, you'll be in for an awesome 2 hours. Karunas a scream.
halfway through #darling. Mildly amusing. Karunas is awesome. G.v. desperately needs to enroll Acting 101.
Ragu nanthen Wrote
#Darling Good as debut hero @gvprakash Anna. Love ur fear and Cute Smile romantic reaction. Music mixed of Love Fun and Thrill in BGM superb
Prashanth Posted
#darling interval - Joly entertainment, karunas rocks.
Vikram Anand Writes
@vikramanand13: Kickass macha @samanton21 #Darling #hilarious #laughriot #scary congrats @joy_stylist #superwork #proud #happy" tank darlin
Dinesh Wrote
#Darling interval - At some point of time, GV looks alike Atlee in the screen. Heroine, super cool and steamy.
#Darling interval - Karuna's comedy is good. Other than that just average. Screenplay clarity is missing a bit.
#Darling interval - At some point of time, GV looks alike Atlee in the screen. Heroine, super cool and steamy.
Raisa Nasreen Posted
The star of #darling is undoubtedly ghost gopal varma aka Rajendran.
It's one of those films where the audience in the theatre are in splits and I am sitting here wondering why. #Darling