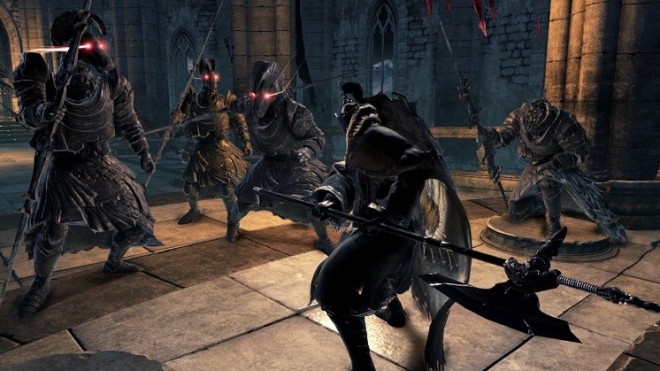 Namco Bandai's Dark Souls sequel, Dark Souls 2 now gets update 1.03. The new update brings bug fixes and various tweaks to the game.
The game takes players on a journey, following an undead and cursed character who has to face numerous monsters, and battle them on his way to the Drangleic Castle, where he has to collect souls to hold the curse that erases his memory. (See Also: Dark Souls 2 Cheats: Complete Boss List and How to Defeat Them)
The game was very well received by critics and fans alike. (See Also: Dark Souls 2 Review Roundup)
The action RPG game, developed by From Software, was released on 11 March for PlayStation 3 and Xbox 360. The game is expected to be released for PC on 25 April.
Recently, it was also revealed that players will have various options for graphics in Dark Souls 2's PC version. The PC version will allow players to "adjust multiple visual features, from texture, shadow, effects and model quality to anti-aliasing and motion blur," read a post on Reddit.
"We are conscious of the high expectations from PC gamers and are working with From Software in ensuring that the PC version of Dark Souls 2 offers the best experience possible," stated Namco Bandai, the publisher, CVG reported.
Here is the release schedule:
PlayStation 3
April 9th 9:00am JST- Released in Asia (except Japan)
April 11th 9:00am GMT- Released in EMEA and Oceania
April 11th 4:00am EDT- Released in Americas
Xbox 360
April 11th 6:00am GMT - Released worldwide
Here is the full patch notes of update 1.03 that was released for Dark Souls 2 video game (CVG):
Multiplayer
Failing to create Multiplayer session no longer disables use of online items, such as White Soapstone.
Players now receive a small portion of Humanity after successfully assisting in a Multiplayer session instead of regaining full Humanity.
Starting boss fight with the Looking Glass Knight while summoning other players no longer cancels the summoning process.
Fixed an issue that prevented some bloodstains, illusions, and messages from being displayed.
Fixed an issue where "Unable to participate in Multiplayer Session" could constantly appear.
Fixed some instances where the portrait of the person you were summoning was different than the actual character.
You will no longer be able to take off Covenant rings while being summoned.
Fixed an issue that would cause some summoned players to fall through the ground at Earthen Peak.
Game menu/interface/controls
Optimized Start Menu and Bonfire Menu performance.
Trophy icon for "Holder of the Fort" has been fixed.
Controller now vibrates when blocking an attack.
Other fixes
Bug involving Drangleic Castle door not opening has been fixed.
Fixed an issue that would cause Souls to be lost upon death with the Ring of Life Protection equipped.
Fixed an issue that caused some players to fall through elevators while using Binoculars and Magic simultaneously.
Fixed an issue causing some enemies being hit by arrows at long distances receive 0 damage.
Fixed an issue preventing the Brotherhood of Blood duels from starting properly.
Added a message for players that displays after entering the coffin in Things Betwixt
Fixed an issue where all of the items and objects in an area would reset (Without using a Bonfire Ascetic).
Fixed an issue that didn't unlock some items from vendors on 2nd and beyond playthrough.
Fixed an issue causing the requirements for the Brotherhood of Blood Covenant be 50 too high.
Licia's conditions for moving have been optimized
Image credit: Dark Souls official