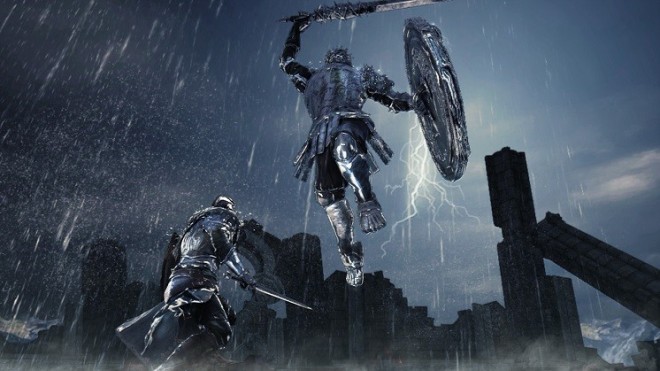 Dark Souls 2, from publisher Bandai Namco, is an action RPG that was released on 11 March for PlayStation 3 and Xbox 360. The PC version has been delayed. The title is a sequel to Dark Souls, known for its gameplay difficulty, and Dark Souls 2 does not disappoint players.
Players can use any help that will make the game a little easier to play. Here are some of the cheats found out to give players enough humanity to stay alive, especially in boss fights, KDrama Stars reported.
Players will find the Ring of Life Protection in No Man's Wharf. The ring will have the power to give them humanity when they die but it breaks soon after. This can be repaired for 3000 souls.
(YouTube Courtesy: Joe Danger)

Players will also be able to use Human Effigies to get human form. Effigies can be bought by trading Dyna and Tillo. These twins will be found in Things Betwixt at the bird's nest on a cliff past the Fire Keeper's Dwelling Bonfire. If players leave items like Prism Stone, Small Smooth and Silky Stone on the ground near the nest, they will get something in exchange and hopefully it will be a Human Effigy. It is preferable that players trade Smooth and Silky Stones for a Human Effigy.
(YouTube Courtesy: Mr Man Pants)

Reddit users have suggested that players have to go the the Shrine of Amana which has a praying Milfinito. After the player rushes to rescue two of the maidens who have strayed out, you will be eligible to pray at the shrine to get your humanity back. Moreover, they will not cost players any items and can be done any number of times.
How to Open Forgotten Doors (via GameFront)
Inside the Gutter, near the pit of Majula and Black Gulch, a huge stone door is locked in a mysterious manner. The stone door can only be opened with 'Forgotten Key.' The Forgotten Key is located in Black Gulch.
Forgotten Key Location
Players will have to travel to the Hidden Chamber Bonfire in the Black Gulch, by exploring the ledge to the right of the entrance into the Rotten's arena. Now, players have to get a torch from bonfire and follow the ledge, until they can spot a platform below, near the spider-like abyssal creatures that attack.
The first platform will have a locked Forgotten door and you will have to deal with Darkdiver Grandahl. Now look below and jump to the lower platform. Near an entrance to the cave you will find a couple of Giants. If you defeat them, there is a chance of earning the Forgotten Key. The back area will have a Fragrant Branch of Yore which can be collected.
Forgotten Door Locations:
In Black Gulch, players dealing with Darkdiver Grandahl will have to find his location, thus gaining a portal to Dark Chasm of Old. In the cave of the Gutter, players have to unlock and find Havel's armor set. When at Majula, a ladder must be purchased that will help you climb down, which will lead you to another ladder, taking you to a locked door and its inside is three treasure chests.
How to Find Havel's Armor:
Players will have to begin from the first bonfire in the Gutter. Now turn and jump down to another building below. A ladder will be available there. Climb it and enter the cave that has poison-spitting figures. After killing them, you will find a forgotten door. Open it. Inside the door you will find more of those creatures. Kill them and near the back wall, there will be a vase. Smash this vase to collect Havel's Armor.