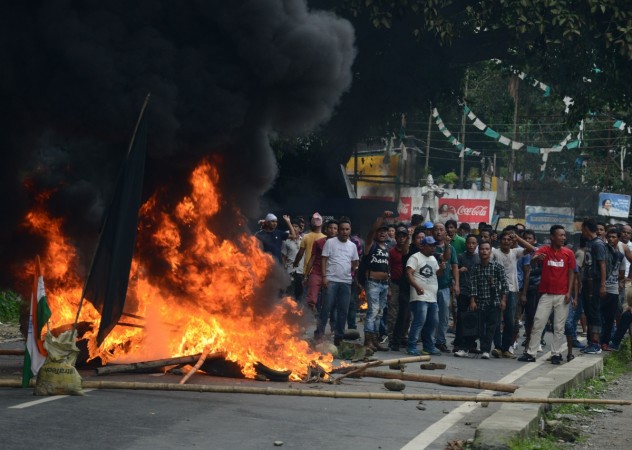 While Darjeeling has been witnessing violence and shutdown since June 15, 2017 as it demands a separate state of Gorkhaland, the situation remains grim. The West Bengal government refuses to relent, despite allegedly treating the people of North Bengal as second-class citizens, and the people of the hill towns now seem to be losing patience.
On Friday, September 15, Gorkhaland supporters vandalised a school vehicle ferrying an unwell student to a nearby hospital in Kalimpong. The SUV, carrying Thai student Rachata Buriwong of the town's St. Augustine School, was stopped at Dambar Chowk and supporters smashed its windshield and windows and also pelted stones at it.
The SUV was then asked to turn around and go back to school. "The vehicle was some distance from the hospital with the sick child but still no one showed any mercy. We have complained to the superintendent of police, the district magistrate and the MLA," principal of the school, Father Gerard Lepcha told the Times of India.
After the incident, the police arrested Gorkha Janmukti Morcha commissioner Bimala Chhetri and 14 protesters, reported the Times of India. This was expected to calm the situation, but tensions flared and GJM members attacked the police, who then had to resort to using tear gas.
As schools, colleges, government offices, and business establishments remain closed, the people of the hill towns are having a tough time going about their day-to-day lives. Children taking up board exams in 2018 are the worst affected as there are chances that the syllabus would be completed.
"We were taking special classes in Siliguri for board year children in the wake of the strike but we brought back boarders to the campus when we got a window. The diktat was that formal classes couldn't happen but we could hold special coaching sessions. But the September 12 meeting has changed everything," Father Gerard added.
While the people of North Bengal have been fighting for a separate state for quite some time, footballer and 2014 Trinamool Congress candidate Bhaichung Bhutia also believes that there should be a separate state of Gorkhaland. In an interview with Sikkim Express he said: "In my personal view, the separate state of Gorkhaland should happen. It is a genuine struggle that people of Darjeeling hills have faced for more than three decades for a separate state."
Meanwhile, a new face seems to be emerging when it comes to carrying forward the cause. Bandana Rai, a 35-year-old lawyer from Delhi, has become an important part of the peaceful protests being held in various cities in India.
As part of the protests that are Rai's brainchild, Gorkhaland supporters in Delhi walked from Rajghat to Jantar Mantar with a 110-metre long Indian flag in June. The month also saw residents of Chennai release black balloons into the air.
"We need new ways to make us noticed," Rai told Scroll. "In order to get people on our side, it is important that the rest of India knows us well. Our image, sadly, is still limited to that of warriors ready to shed blood. But we are much more. They must get to know us."