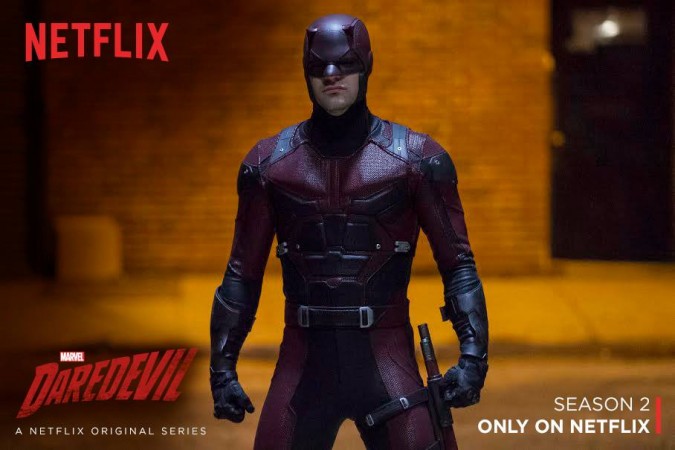 Marvel's first attempt at entering the Netflix streaming world has met so much critical acclaim and popularity that season 2, set for release in 2016, has already been ordered. In fact, "Daredevil" has a stunning rating of 98% on Rotten Tomatoes and 9.2 out of 10 on IMDb, as of April 2015.
The show which stars Charlie Cox as Matt Murdock aka the "Daredevil", will premiere its season 2 in April 2016. While the show-runners have not yet confirmed any specific news about the upcoming season, there are speculations that the creators would link Marvel/Netflix series Jessica Jones, Iron First and Luke Cage in The Defenders.
Meanwhile, Cox himself has expressed deep interest in seeing Spider-Man pop into New York City's Hell's Kitchen. During an interview with Screenrant, Cox spoke of what is in store for the blind Superhero, according to the comic book series.
"I love it when Spider-Man pops up, and there's one great issue where Matt Murdock has to defend Daredevil and so Peter Parker puts on his suit for him so he can sit in the dock," said Cox.
He is also a fan of Elektra, and would like to see the ninja assassin in the second season of Marvel's "Daredevil".
Here is a list of Marvel Superheroes who could become regular cast-members or at least make cameos in "Daredevil" season 2:
Luke Cage/ Carl Lucas
Mike Colter, who plays Luke Cage in the upcoming series "A.K.A. Jessica Jones", could most likely be a guest star in "Daredevil". Especially since it is the second among the series of shows that will lead up to a crossover series "Defenders" after "Daredevil", fans will get to see either Matt Murdoch in "A.K.A. Jessica Jones" or Luke Cage in Hell's Kitchen sooner or later.
Jessica Jones
Titular character of "A.K.A Jessica Jones" will be played by Krysten Ritten from, and if not in 2015 when her show is made available for streaming, she will visit Matt Murdoch in 2016, when "Daredevil" returns with 2016.
Elektra
The kunoichi (female ninja assassin) of Greek descent, who made her first appearance in the Marvel Universe in "Daredevil #168", used to be the romantic interest of the Hell's Kitchen vigilante. One of the sexiest women in comics ever written or drawn, Elektra would make a great addition to the Netflix series.
Spider-Man/Peter Parker
Since Peter Parker and Matt Murdock reside in the same city and more or less have the same enemies, they would be great allies. Moreover, the comic books suggest that the duo have a lot of history.
She-Hulk/Jennifer Walters
A cousin of Dr Bruce Banner aka the Hulk, Jennifer Walters had received blood from him, which gave her a minor version of Dr Banner's "gamma" condition. Walters, who has the regular job as an attorney, could easily become friends with Matt Murdoch who is also an attorney. In a recent comic book storyline, the two even faced off when she represented Captain America in a civil suit against Matt.