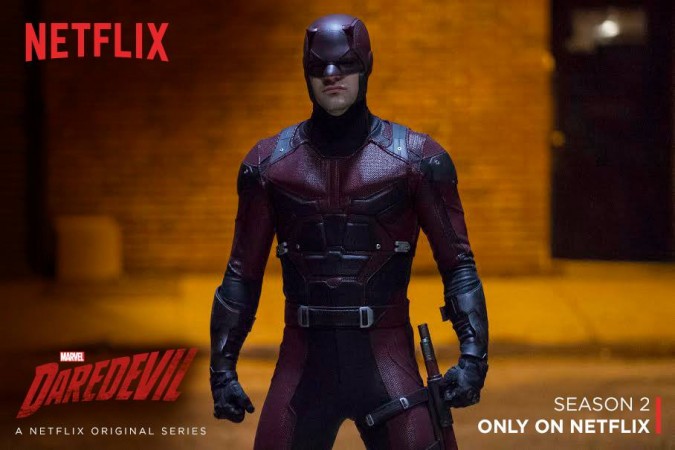 "Daredevil" Season 2 has finally got an official release date, much to the excitement of its fans worldwide. Starting 18 March, 2016, everyone with a Netflix account can stream new episodes of the Marvel series.
Amid other exciting news like the arrival of Elektra (Elodie Yung) and Punisher aka Frank Castle (Jon Bernthal) at Hell's Kitchen, there are some rumours regarding the romantic future of Matt (Charlie Cox) and Karen (Deborah Ann Woll) as well. Meanwhile, it has been confirmed that Bullseye may not appear in the Netflix series in the next season.
Soon after Season 1 was aired on Netflix, it was rumoured that "Spy" star Jason Statham may join "Daredevil" as the iconic villain Bullseye. Later reports, however, suggested that he dropped out of the project and that Bullseye may not be a priority in the series, especially because epic characters like Elektra and Punisher are making their debut in the coming season.
Also Read: The Defenders universe including Jessica Jones and Iron Fist to affect MCU storyline?
It is only fair that Bullseye gets prominence in the season he appears in and now, most fans believe it will be Season 3. There are quite a few fan theories that suggest that Easter Eggs for Bullseye have already been dropped in Season 1. In fact, many claim that the marksman that framed The Man Without Fear in Season 1 was Bullseye.
On lighter spoilers, it looks like Matt and Karen might start dating in Season 3 of "Daredevil". She is one of Matt's closest friends, but is the only one who does not know that he is the vigilante Daredevil. In the comics, Karen falls in love with Daredevil before she feels romantically towards Matt.
However, in a photo posted by a fan from the sets of "Daredevil", it looks like Karen is on a date with Matt. The couple is dressed to the nines and is holding hands, making fans wonder if they are actually dating in Season 2. They could also be on an undercover mission, meaning the romantic setting, may mean nothing to Matt and Karen.