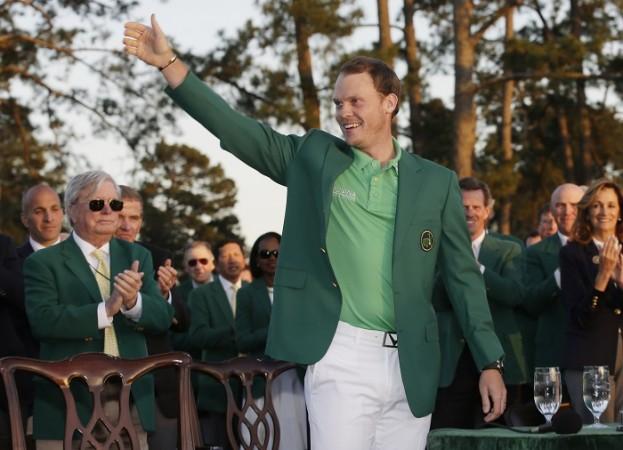 Jordan Spieth looked certain to win a second consecutive US Masters title at the turn in the fourth round of the major. But then, fate, according to the eventual winner, intervened and just like that the American lost control, when all he had was that, and little-known Englishman Danny Willett took charge to clinch the US Masters 2016 title and his first major.
Leading by five shots after the ninth hole, a win looked inevitable for Spieth, who had led through all three rounds coming into this final day at Augusta. However, a bogey on the 10th, followed by another on the 11th brought on the butterflies. Then came the game-changer, a quadruple bogey, Spieth's first of his career, on the 12th, which swung the fortunes in such a manner that Willett suddenly found himself with a tremendous opportunity to win the whole thing.
He did that as well, making a birdie in the 16th, before holding his nerve rather well in the 17th and 18th to make pars, which just left Spieth with too much to do.
"Words can't describe the feelings of what's going on and what we've just accomplished," Willett was quoted as saying by The Guardian. "I'm just going to have to wait and see if it sinks in. I can't wait to get home and celebrate with my family.
"My wife was born, in about 10 minutes' time, 28 years ago, it's her birthday back home today. My son was due today and he came early too, obviously, letting me come and play. So you talk about fate, you talk about everything else that goes with it, it's just been a crazy, crazy week.
"I said I wouldn't come here if he wasn't born and I was sticking by that. Thankfully, he answered my prayers and came early. People were saying 'Try to bring the green jacket home for the little man'. It's a bit big but I am sure he will grow into it."
After the dust had settled, Willett took home the green jacket by three shots, with Spieth finishing joint second with Lee Westwood, who put in another solid performance in a major, without winning it.
Rory McIlroy, whose hopes of winning the US Masters for the first time had pretty much been extinguished with a poor third round, shot a final round 71 to finish tied 10th.
On another day, Shane Lowry, Davis Love III and Louis Oosthuizen might have taken more of the spotlight, after all three of them shot hole in ones on the Par 3 16th. But, after that dramatic Spieth meltdown in the 12th and a stunning show of nerve from Willett, all the focus, rightly, was on the Englishman, who became the first European since 1999 to win the US Masters.