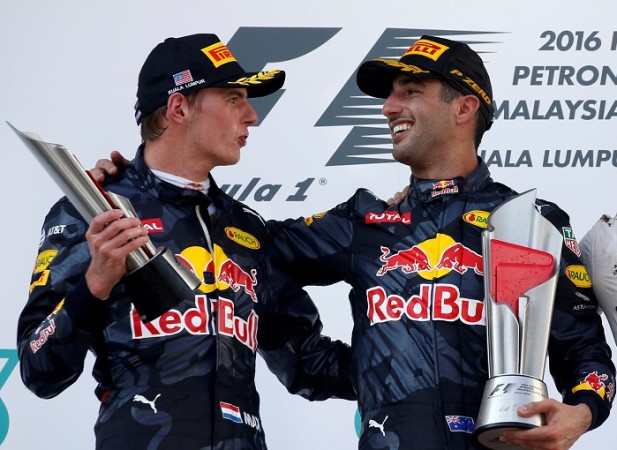 The 2017 Formula One season is expected to be a lot more competitive than last season after looking at the results from pre-season testing in Barcelona. Last season saw Mercedes dominate both the drivers' championship and the constructors' championship and while they remain favourites this season too, Ferrari and Red Bull have shown signs that they can match the pace of Mercedes.
Also read: Daniel Ricciardo wants more entertainment as Liberty Media look to 'try new things' in Formula One
Mercedes' Lewis Hamilton is still the favourite to win the world championship, after losing out to Nico Rosberg last season, and while the title remains the ultimate goal for Red Bull Racing driver Daniel Ricciardo, the Australian is not building up his hopes.
Ricciardo finished third in the drivers' championship last season, behind Hamilton and Rosberg and despite playing down his chances of winning the world championship in 2017, he said he would do everything he can to make it happen this year.
"I kind of learned a few years ago that you want to win every race, but no one has ever done that, so you have got to expect to not always win. That's certainly my aim, it's my target to be world champion. I'll do what I can to make it happen this year, but I'm not expecting it to happen," Herald Sun quoted Ricciardo as saying.
"Last year I didn't win the title but I was still very happy with the year. I felt I did well and got my first pole and got back on the top step. For me to perform at my best I think I would be happy. But I would be very happy with the world title, too.''
While playing down his chances of winning the world championship, Ricciardo said that all the hype surrounding his 19-year-old teammate Max Verstappen, ahead of the new season is going to motivate him to do better.
The Belgium-born Dutch driver has been tipped for greatness since he got promoted to Red Bull last season, before becoming the youngest ever winner of a Grand Prix, after he won the 2016 Spanish Grand Prix.
"It helps having a competitive teammate, absolutely," Ricciardo added. "Max is obviously talked about and is very popular and a lot of people expect him to win world titles and that so for me it's a good motivation for me to be like, 'let's stop this train'! Not in a sour way, but a good competitive way.
"I like having someone alongside me who is strong. Yeah it would be nice to win every race but you learn a lot more about yourself so I'm enjoying it."