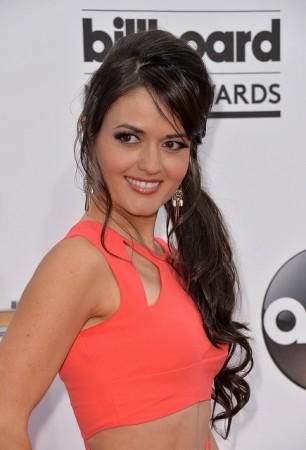 Our Winnie Cooper has finally married her Kevin Arnold!
"The Wonder Years" star Danica McKellar married attorney Scott Sveslosky in Hawaii on Saturday, four months after announcing her engagement.
McKellar played "Winnie Cooper" in "The Wonder Years", along with Fred Savage who played Kevin Arnold and Josh Saviano who played Paul Joshua Pfeiffer. McKellar and Savage's characters had an on-and-off relationship throughout the series.
Looking like a fairy tale princess, the brunette exchanged vows in an early morning beachfront ceremony in Kauai, Hawaii.
"It was absolutely magical. We were married at 6:30 a.m. in a sunrise ceremony. The forecast predicted rain, but there was not a drop of water in the clear sky. The sun came peaking up over the mountains just as I was walking down the aisle, alongside both my parents," said McKellar.
Her husband Sveslosky is a partner at the international law firm Sheppard, Mullin, Richter & Hampton.
The couple's two sons, Sveslosky's 10-year-old son from a previous marriage - Hunter – and McKellar's four-year-old son from ex-husband Mike Verta – Draco, were present at the wedding too, Daily Mail reports.
After the couple exchanged vows, they also exchanged family vows with their sons.
"Scott and I exchanged our vows and then we exchanged family vows with our sons Hunter and Draco – we wrote everything ourselves. We also performed a sand ceremony where the four of us poured different colored sand into a vase which we will keep at home," the actress said.
The wedding festivities continued at the Grand Hyatt Kauai after the wedding ceremony. McKellar's mother, who is a professional dancer, also performed a Hula dance to the Hawaiian love song "Forevermore" by Alfred Apaka.
The "Dancing with the Stars" star shared some details of her upcoming wedding with ABC News in September.
"Wedding planning has been underway for a while," she said. She added that "perhaps" she would share pictures of the wedding on the social media this year. "It will be a really small wedding, because we've both been married before, we've both had big weddings and this time around it's really just about us."
McKellar had a lavish wedding in 2009 to Mike Verta whom she had dated for eight years before that. The two split two years ago.