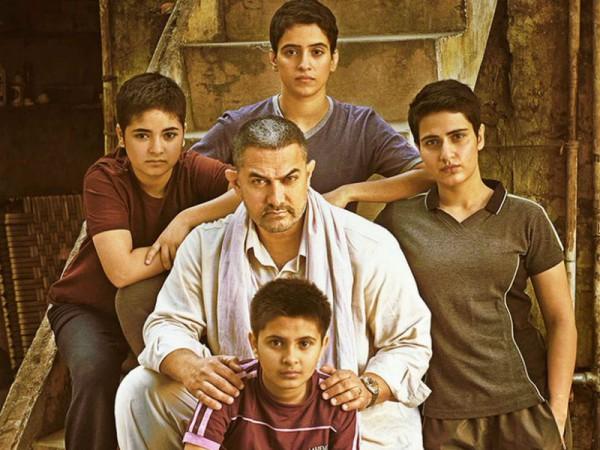 The makers of Aamir Khan-starrer Dangal, which will release in theatres on Friday, December 23, held a special screening on December 21, which was attended by the who's who of Bollywood. And as expected, the film has received overwhelming reviews from critics.
Directed by Nitesh Tiwari, Dangal is inspired by the real-life struggles of popular Haryana wrestler Mahavir Phogat, (played by Aamir) and his daughters Geeta Phogat (played by Fatima Sana Shaikh) and Babita Kumari (played by Sanya Malhotra), who fulfil their father's dream to win gold medal for India.
Dangal special screening| Dangal movie stills
The movie has impressed critics and the audience alike. They claim the film is inspiring and empowering. Aamir has once again proved himself to be a perfectionist and has delivered a stupendous performance. The 51-year-old is also being lauded for having experimented with his role as a young and fit wrestler and an aged father with a pot belly.
Below, we bring to you some critics' opinions of the movie.
Meena Iyer of the Times of India said: "Director Nitesh Tiwari, along with Piyush Gupta, Shreyas Jain and Nikhil Mehrotra should be complimented for their tongue-in-cheek quality, peppered with humour and several poignant father-daughter emotions all through. Aamir Khan should be complimented for experimenting with his roles, unlike his contemporaries who prefer to play safe. Most importantly, Dangal scores with its first-rate performances. Demonetisation be damned, watch Dangal."
Shubhra Gupta of Indian Express said: "This is clearly Aamir's film. It wouldn't have been made if he hadn't green-lit it, and he brings to it the sincerity of purpose which makes it not just a starry vehicle, but a film which is about something, which has meaning, with a message which doesn't overwhelm the telling. What keeps the film together are the performances. The first-timers — as little girls, and young women learning to gauge their opponent and beating all comers; no silver medals, only gold — all come off well."
Rachit Gupta of Filmfare said: "Aamir Khan has done it again. Dangal is the best film of the year. Without a shadow of doubt. This film is a thundering body slam of honest emotions and sheer hard work. Dangal has everything that you'd ask from the perfect Hindi film. Its funny, dramatic, dark, serious, emotional all rolled into one seamless cinematic gem. A film that deserves a standing ovation. A story so good that it will make you feel like a proud Indian. This is a truly special film."
Rohit Vats of Hindustan Times said: "This could be Aamir's best performance till date. Yes, even better than Lagaan. A man making his daughters chase his dream. He cries, frowns, gets angry, looks old and tired, but is definitely one of us. Daler Mehndi belts out the Dangal title song and you feel a similar goosebumps moment that you felt in Rang De Basanti, Lagaan and Chak De India."
Taran Adarsh of Bollywood Hungama said: "DANGAL is a flawless piece of work -- it's captivating, unpredictable, spellbinding, entertaining and never overstays its welcome. Most importantly, DANGAL is seeped in Indian ethos. On the whole, DANGAL is a masterpiece. A terrific film that stays in your heart and remains etched in your memory much after the screening has concluded. A brilliant film that restores your faith in Hindi cinema. Actually, it won't be erroneous to state that DANGAL is the finest film to come out of the Hindi film industry in a long, long time and mark my words, it will be remembered as a classic in times to come."
Uday Bhatia of LiveMint said: "Most Bollywood sports films slow down the action, cut it up, use close-ups to hide the actor as much as possible. Dangal, however, observes large portions of its bouts at a distance, enough for the viewer to realise that they aren't faking the entire thing. Even as the Mahavir track becomes increasingly desperate, Dangal never loses interest in the girls."
Saibal Chatterjee of NDTV said: "Dangal is, however, more than just a film about a popular contact sport. It is also more than just an Aamir Khan film. Dangal smells of the soil of a village and the mud of a wrestling pit as it does of the blood and sweat that goes into the making of champions. Dangal is the kind of sports film that usually eludes Bollywood. Dangal is an outright winner - a film that will pin you down and keep you in its grip all the way through."
Ananya Bhattacharya of India Today said: "Dangal is a crowd-pleaser. But it also has stellar performances and an engaging story-telling. Aamir is compelling in his role of Mahavir. Drop everything and watch Dangal this weekend. Welcome back to the big screen, Aamir Khan. The two-year wait has been totally worth it."
Raja Sen of Rediff.com said: "This is by far the most credible an Indian sport film has ever felt, with even the commentators getting in on the action, giving most of us a tutorial in how to watch the sport. Dangal teaches us where rainbows lie in wrestling, and while it is a celebration of true greats -- and true grit -- this isn't about one sport. India needs to watch this film for the way it puts the 'her' in 'hero.'"