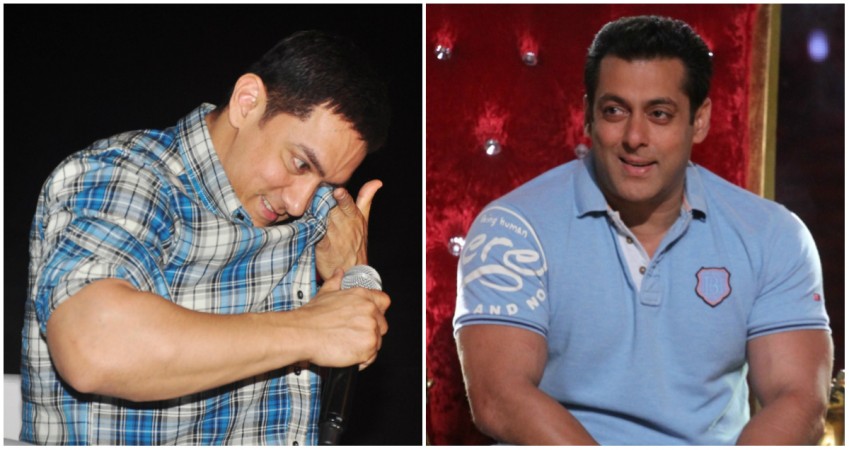 Bollywood actor Aamir Khan recently launched the first poster of his upcoming film "Dangal," but invited trouble with a comment. Aamir interacted with the media at the launch event and apart from the film, he also talked about Salman Khan.
While praising Salman and calling him a big star, Aamir got carried away and said something that might spark another controversy. "Salman is a huge superstar. When he enters it looks like the star has entered and when I enter, I look like a waiter," he said.
Then, suddenly he realised his mistake and said: "Oh I shouldn't have said that. Waiters are great people." But, media had already captured the moment and Aamir might land in trouble once again. Earlier, he had sparked a row after commenting on the growing "intolerance" in the country.
Though he praised Salman for his well-built body and stardom, he also said that he found the "Sultan" actor's "rape remark" insensitive. Speculations are rife that Aamir and the makers of "Dangal" have intentionally released the poster ahead of the release of "Sultan."
As everyone knows, "Dangal" and "Sultan" have been compared since the beginning. Both the films deal with wrestling, but have quite different stories. In fact, the Salman-starrer's director, Ali Abbas Zafar, had earlier revealed that he had named his film "Dangal" initially.
"Sultan" is about a wrestler who falls in love with Anushka Sharma's character Aarfa, who is also a wrestler. Salman will be seen fighting with real life wrestlers as well. It was reported that Aamir was not happy after watching the trailer of "Sultan," as he found a few scenes similar to his film.
"Dangal" is set to hit the theatres on Dec. 23 and it also features Sakshi Tanwar, Fatima Sana Shaikh and Sanya Malhotra. Directed by Nitesh Tiwari, it is a biopic on senior Olympics coach Mahavir Singh Phogat.
Watch the video in which Aamir called himself a "waiter:"