"Dancing with the Stars" Season 18, week two kicked off with host Tom Bergeron's shocking announcement that two pairs would be eliminated at the end of the episode.
Long distance swimmer Diana Nyad and her partner Henry Byalikov, and Canadian former professional ice hockey player Sean Avery and Karina Smirnoff were the first two pairs to be sent home.
Both the pairs had scored low points from judges after their debut performances with Nyad scoring 18 and Avery 20. These scores, combined with viewer-voting results put the athletes in the danger zone, resulting in their elimination.
"For years I've wanted to do this show," Nyad, 64, said soon after her elimination, adding that her only regret was not giving Byalikov a few more weeks on the show. The swimmer left the show after performing a Cha-Cha with her partner.
Nyad's debut performance was a minute-long foxtrot, which she said was as daunting as swimming from Cuba to Florida without the assistance of a shark cage.
"When I would stand on that shore over in Cuba and look out at the horizon, I knew that what was in front of me was going to be at least two, probably more like two-and-a-half nonstop days in the open ocean, with all kinds of obstacles," Nyad told TVGuide.
"And [Monday], as I stood holding [partner Henry Byalikov's] hands, I was thinking, 'You have one minute and six seconds for this foxtrot.' It's just an absurdly different kind of challenge."
While Nyad's elimination was a shock to many, Avery was not a fan favourite, and many expressed their desire to see him off the show soon after his first performance last week.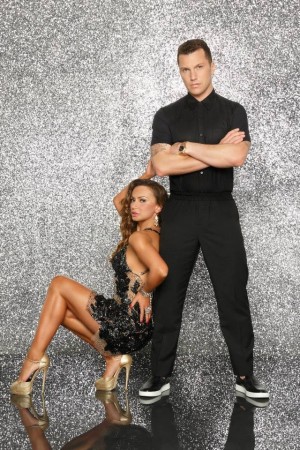 Although the judges were kind in critiquing his contemporary number, fans did not spare him. And judging by the comments on micro-blogging siteTwitter, fans are glad to see him go.
"Sean Avery dancing is just so awkward," wrote one, while another added: "Someone needs to redeem hockey players on #DWTS because Sean Avery isn't doing it."