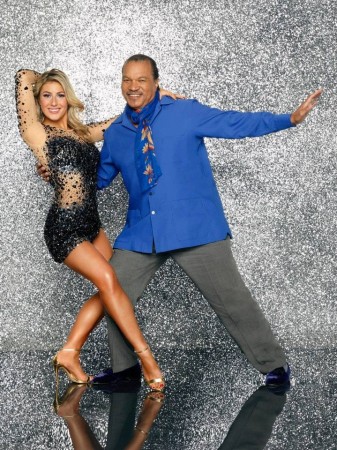 Season 18 of "Dancing with the Stars" kicked off on Monday with stellar performances from all 10 celebrities and their partners.
But the show has brought in a new elimination format, which will take into account viewer-voting results and judges' scores, and speculations have already started on who will get the boot.
"Star Wars" actor Billy Dee Williams and his partner Emma Slater did a Cha Cha and managed only 15 points, the lowest in the episode.
Analyzing their "Star Wars" themed performance, Carrie Ann called him a relaxed dancer, while Bruno Tonioli asked for a more powerful act the next time around. Len Goodman just noted that it was an entertaining performance.
Although the judges might have given Williams low scores, fans of the "Star Wars" actor are rallying for him on Twitter.
Billy Dee Williams aka Lando did a Star Wars theme dance! 1 word! Awesome!! He's 77! #DWTS #starwars

— InfamousQueen (@InfamousQue3n) March 18, 2014
Billy Dee Williams moved slow but the poor man is 77. I think he did great. He'll be voted off but he's great! #DWTS pic.twitter.com/OIZk4wFaat — Jennifer Bareilles ♥ (@JennBareilles) March 18, 2014
Another star who might be eliminated is hockey player Sean Avery. The sportsman and his partner Karina Smirnoff did a contemporary number that had judges applauding him for the intensity of the performance. But the number lacked finesse, according to Goodman, and the couple got just 20 points.
From the comments on Twitter, it looks like Avery is not popular with DWTS fans, who said they hoped he would be eliminated in the upcoming episode.
Watching Sean Avery on dancing with the stars is enough entertainment to last me the month!!!!

— Chris Holt (@CHolt31) March 18, 2014
I can't even comment on Sean Avery. I can't. It's all just too douchey. I'm done. — Rachel (@raaaachel_g) March 18, 2014
is sean avery considered the dancer or the star because i dont think he is either

— abbyyyyyy (@bsaader) March 18, 2014
Meanwhile, Olympic ice-dancer Charlie White landed a score of 27, making it the highest score in a premiere. Candace Cameron Bure, better known as DJ Tanner of "Full House", also managed to impress the judges with a contemporary number. She was awarded 25 points, making her one of the top scorers of the premiere episode.