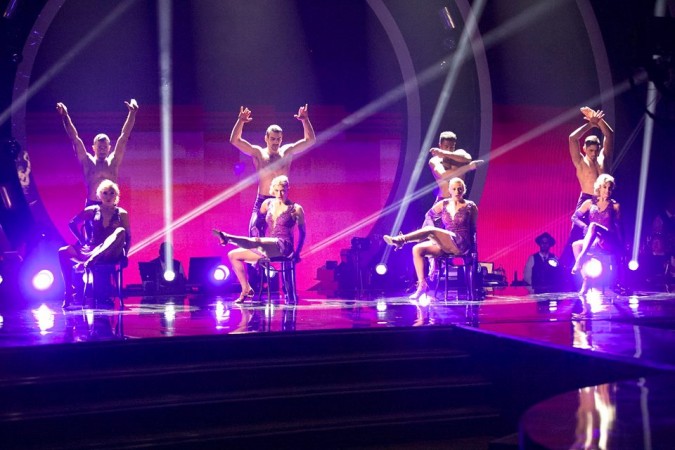 The Season 22 winner of ABC's "Dancing with the Stars" will be announced on Tuesday, May 24, and frontrunner Nyle DiMarco is supposedly not too happy with his two competitors – Paige VanZant and Ginger Zee – reportedly fibbing about their past dance experience.
Zee, who had earlier said she has no dance experience, was on her college dance squad and VanZant's mother is a dance instructor, reported Radar Online, adding that DiMarco was "furious" when he found out this. But he seems to be having the last laugh after both Zee and VanZant confessed that the model deserves to win the Mirror Ball Trophy.
In the semifinals, DiMarco danced blindfolded with partner Peta Murgatroyd and this has impressed his competitors. "After Nyle's dance, Paige and Ginger both came up to him to let him know that they were so impressed by him," said the source, adding, "They actually said that they think he should be the winner now."
The Season 22 finale of "Dancing with the Stars" will be a two-day special that will see the final three – Nyle DiMarco, Ginger Zee and Paige VanZant – showcasing two dances on Monday followed by the 24-Hour Fusion Challenge on Tuesday. At the end of the two-hour special on Tursday, the Mirror Ball Trophy will be awarded to the person who has scored the maximum scores as well as votes.
On Monday, the three finalists will perform a Jazz, Quickstep or Salsa and a Freestyle. Find below the songs and routines each team will perform.
Ginger Zee and Val Chmerkovskiy - Jazz to "Adventure of a Lifetime" by Coldplay; Freestyle to "Orange Colored Sky" by Nat King Cole
Nyle DiMarco and Peta Murgatroyd - Quickstep to "S.O.B." by Nathaniel Rateliff & The Night Sweats; Freestyle to "The Sound of Silence" by Disturbed
Paige VanZant and Mark Ballas - Salsa to "Fireball" by Pitbull; Freestyle to "Over the Rainbow" performed by BC Jean
On Tuesday's two-hour finale, all the 12 couples from Season 22 will come together for a grand performance. Pitbull, Aloe Blacc, and Fifth Harmony will take to the stage to entertain viewers and the winner will be announced at the end of the second hour.