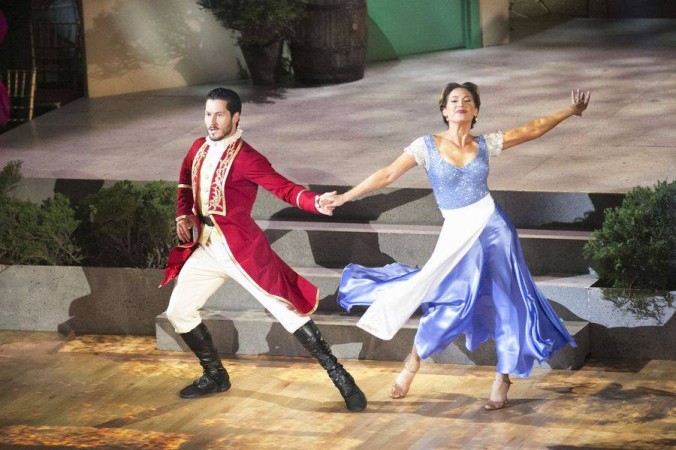 Ginger Zee, a finalist in Season 22 of "Dancing with the Stars," has hurt her pelvis and it's doubtful if she will be able to perform in the finale, which will kick off on Monday night on ABC. CLICK HERE to live stream the finale. The pelvis injury has resulted in back spasms.
Zee is working with the show's physical therapist, and she has been taking it easy so as not to strain herself. She has also stopped rehearsing in order to prevent her back pain from getting aggravated.
"My pelvis is very loose and unstable...because I just had a baby," she told ABC News on Sunday, according to Entertainment Tonight. Zee, who welcomed her first child in December, revealed that her physical therapist said her pelvis was "just moving all over" and was nearly "an in off" from where it's supposed to be.
Zee also added that Jenna Johnson was standing in for her. "I couldn't even do two of my dress rehearsal runs today because, for one, I can't even do some of the moves — I'm not allowed to," Ginger said (via Entertainment Weekly). "So Jenna stood in for me and I was able to kind of watch. I'm not there. I'm not even close to where I need to be to perform."
If Zee is cleared to perform, she will be competing against Nyle DiMarco and Paige VanZant. On Monday, the three finalists will perform a Jazz, Quickstep or Salsa and a Freestyle. Find below the songs and routines each team will perform.
Ginger Zee and Val Chmerkovskiy — Jazz to "Adventure of a Lifetime" by Coldplay; Freestyle to "Orange Colored Sky" by Nat King Cole
Nyle DiMarco and Peta Murgatroyd — Quickstep to "S.O.B." by Nathaniel Rateliff & The Night Sweats; Freestyle to "The Sound of Silence" by Disturbed
Paige VanZant and Mark Ballas — Salsa to "Fireball" by Pitbull; Freestyle to "Over the Rainbow" performed by BC Jean
"Dancing with the Stars" is aired on Mondays on ABC.