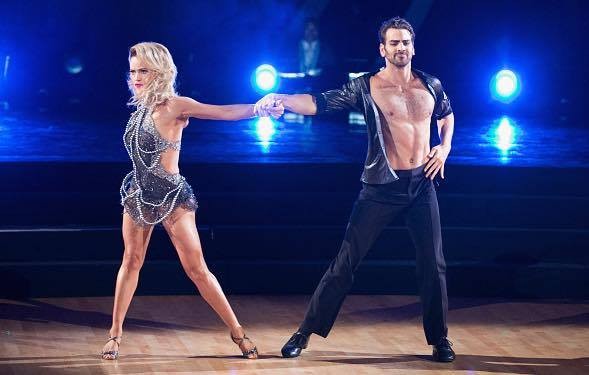 Monday's episode of ABC's "Dancing with the Stars" will feather the Famous Dances theme where celebrities and their professional dancing partners will perform routines that are already well known. "Jai Ho" from "Slumdog Millionaire," "You Can't Stop the Beat" from "Hairspray," and "Bye Bye Bye" from NSYNC's "Video Music Awards" are some of the numbers that will be enacted in the upcoming episode.
Meanwhile, it remains to be seen if "Fuller House" actress Jodie Sweetin will be performing this Monday. The actress suffered a foot injury during rehearsals on Thursday, and there hasn't been any word on her condition since then.
"Earlier today, Jodie Sweetin injured her left foot during rehearsals for Dancing with Stars," Sweetin's representative said in a statement to the media on Thursday, reported E!News. "She was taken by ambulance to a local hospital and she is awaiting her official diagnosis. She is in good spirits while she waits and Keo, along with her fiancee Justin Hodak, are by her side."
Deaf contestant Nyle DiMarco and his partner Peta Murgatroyd will perform a Quickstep to "Hey Pachuco" from "The Mask" and the model has decided to get rid of his famous stubble for the performance. Although DiMarco appeared sad to have lost his bear, taking to Twitter the model noted that it won't take him long to grow it back.
Things I do for #DWTS...#ItWillGrowBack #JustGiveMeAWeek #ILoveYouAll pic.twitter.com/hViQaY68Dn

— Nyle DiMarco (@NyleDiMarco) April 25, 2016
As for who will get eliminated after Monday's performances, all bets are on Doug Flutie and Karina Smirnoff. They had the lowest score the week Marla Maples was eliminated, but luck was with Flutie. If not Flutie, then another couple who could leave the show on Monday is Antonio Brown and his partner Sharna Burgess. During the Switch-Up Night Brown was partnered with Smirnoff and he received the lowest score of the night, leaving Brown on the hot seat.
"Dancing with the Stars" airs Mondays on ABC. Click here to watch the episode live.