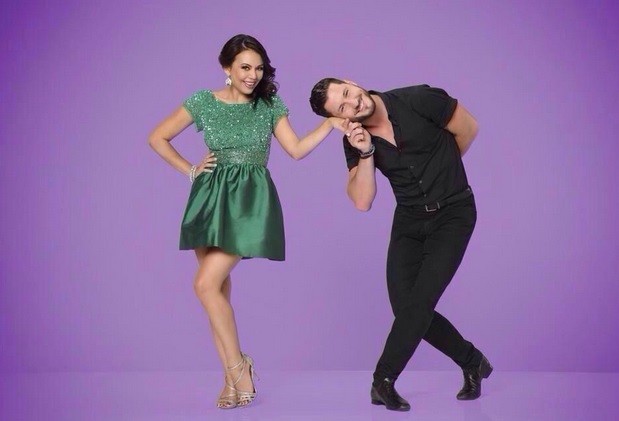 "Pretty Little Liars" actress Janel Parrish and her dancing partner Val Chmerkovskiy might not have won the Mirror Ball Trophy, but they have won something much more precious -- each other.
Parrish said as much in the finale, when she admitted to the dancer that he was her trophy in the entire season.
"Val, I really have grown to love you so much as a person. I'm going to miss you and I love dancing with you. I hate goodbyes but I'm not going to say goodbye to you because I know I'm going to see you again," Parrish said in a segment.
Earlier reports had suggested that Parrish has fallen in love with Chmerkovskiy in the course of 11 weeks they were together as partners on the show. And now that he has expressed a desire to get to know Parrish better, it can be safely assumed that the two have decided to check out their chemistry outside the show.
"I'm going to miss dancing with Janel, but I'm finally going to get a chance to get to know her outside these crazy circumstances, so I'm excited," Chmerkovskiy said during an interview with hosts Tom Bergeron and Erin Andrews.
Earlier in the episode, Alfonso Ribeiro, winner of "Dancing with the Stars" season 19, also confirmed the budding romance between Parrish and Chmerkovskiy when he said the duo has amazing chemistry.
"Janel's strongest suite is the fact that she's got a great connection with Val. Their chemistry based off real life comes to that dance floor, so it's a hard one to beat," Ribeiro said.
Parrish and Chmerkovskiy sparked romance rumours earlier in the season when they were spotted kissing backstage. Parrish's split from her boyfriend further aided these talks of a budding romance between the two.
But at the time there were also talk that Chmerkovskiy wasn't that interested in Parrish, as he was a playboy and his immediate focus was to win the show and make money.
"Janel has completely fallen for Val. What started as a fake relationship is now a real relationship between the two. The only problem now is that people close to Val are questioning how long he's in it for. He's a major playboy and his main focus is to win the show in order to make more money for himself," a source told HollywoodLife.
But now that Chmerkovskiy has admitted to a desire to get to know Parrish outside their working atmosphere, there is a strong possibility of the two coming out as a couple in the near future.