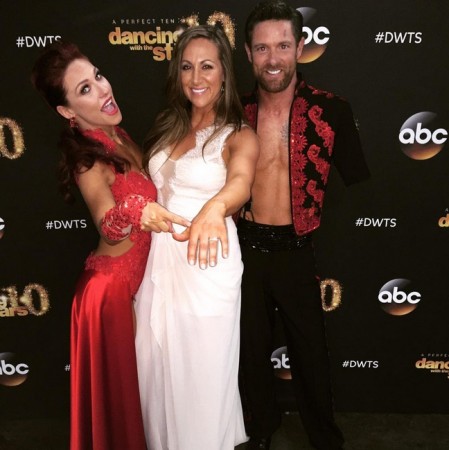 Noah Galloway went down on his knees to propose to long-time girlfriend during the 11 May episode of "Dancing with the Stars".
Just after performing his routine number for the night, the 33-year-old star proposed to his ladylove, Jamie Boyd, leaving the audience teary-eyed.
Noah, with his partner Sharna Burges, performed a lovely Vietnamese Waltz on the tunes of David Cook's "Time of My Life" and received an amazing score of 36 out of 40 from the judges. But the best part of the evening was yet to come.
Just after the performance, Jamie came out on the stage and started praising her man for the wonderful performance. "You're amazing," she said to Noah. "You're a beautiful dancer and you have a beautiful heart."
Noah immediately took the opportunity and continued saying that he would like to dedicate the song "Time of My Life" to her and was thankful that she had given her time to him."I've to do it here," the star said before getting down on his knee.
At first, host Erin Andrews thought it was a joke and threw her head back. But when Noah presented Jamie with "a two-carat, princess-cut diamond on an 18-karat white gold band from XIV Karats in Beverly Hills," according to PEOPLE, the whole audience was moved to tears and cheered on the happy couple.
Jamie looked completely flushed and happy and started hugging Noah. She admitted on camera that it was a complete surprise for her and she had never expected Noah to come out and propose like this. "I'm speechless and I'm never speechless," gushed Jamie and when Erin asked if that meant a 'yes' she replied, "Oh heck yes!"
Watch the proposal video below: