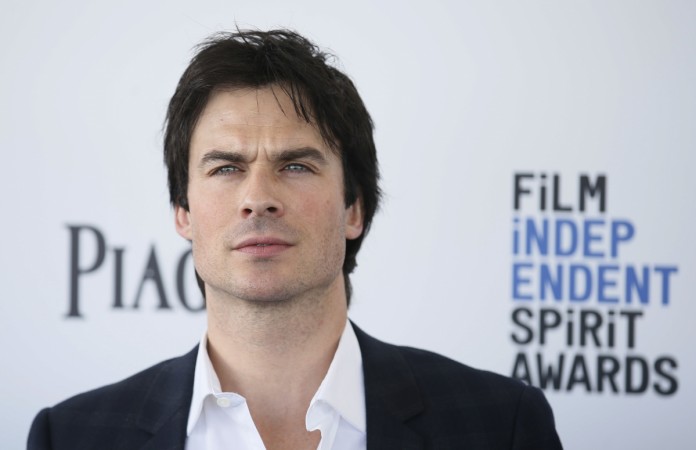 Season 7 of "The Vampire Diaries" could end with Ian Somerhalder's Damon Salvatore dying, according to new rumours.
The promo video for the upcoming episode of "The Vampire Diaries" shows Rayna apparently convincing Stefan Salvatore to transfer the mark to his brother Damon.
In the previous episode, the elder Salvatore brother had come up with the perfect plan to kill Rayna, but that had to be dropped after Bonnie informed him that Rayna is on her last life and if she dies, everyone who has been marked by her dies with her. In order to save Stefan, Damon decided to sacrifice his own life and hatched the plan to have the mark transferred. And Rayna agreed to it as she has always felt that Damon was the vampire who deserved the mark in the first place.
The promo for "Days of Future Past" shows Rayna telling Stefan that the only way for him to be completely free is by letting go of Damon. Another scene shows Rayna with Stefan, and she asks, "Are you finally ready to leave Damon behind?" to which he replies: "Yes."
Fans will have to wait until April 1 to know what finally happens to the Salvatore brothers, but the promo for the episode has given rise to the speculation that Damon will die at the end of Season 7. Rumours swirling around also hint at Somerhalder following in Nina Dobrev's footsteps and quitting the show to pursue other projects.
Somerhalder is yet to address these rumours. However, it seems unlikely that the actor will quit at this juncture, especially as the show was just renewed for Season 8. Also, executive producer Julie Plec had said earlier in an interview that she'll carry on with the show as long as Somerhalder and Paul Wesley stayed on.
"I finally realised that my destiny on this show, creatively, is tied in to Ian Somerhalder and Paul Wesley," Plec told E!News in January. "And I mean that in a really good way. As long as those boys who I now consider my friends want to keep telling the story, then I won't walk away from telling the story."
"The Vampire Diaries" is aired Fridays on the CW.