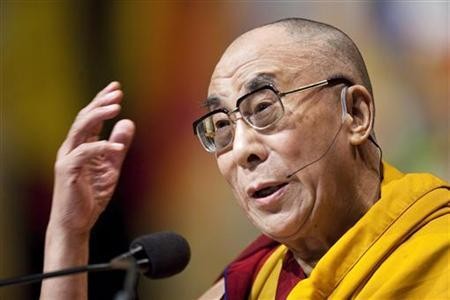 The Dalai Lama, the spiritual head of Tibetans who are in exile, thanks to Chinese aggression, is showing a rare acceptance of Chinese President Xi Jinping, and after calling him "open-minded and realistic" last week, he has now said the latter understands Buddhism's role in Chinese culture.
Tibet has been under China's iron fist since 1950 when the communist troops marched in, and its government runs in exile from India, with thousands of Tibetans settled here to escape police atrocities.
However, the Dalai Lama had a few goods words for the Chinese President during his India visit last week, in a rare gesture for a Tibetan leader towards a Chinese head of the state.
"Xi Jinping's thinking is more realistic and open-minded (than his predecessors'). He should learn from India," he had said even as hundreds of Tibetans made strong protests against the Chinese President's visit.
On Monday, the Dalai Lama claimed that Jinping had publicly accepted Buddhism's role in the preservation of Chinese culture.
"Preservation of Tibetan Buddhist knowledge, culture and language is of immense value to the Chinese people. President Xi Jinping has publicly said that Buddhism has a role to play in the preservation of Chinese culture," the Dalai Lama said during an event in New Delhi on Monday, The Press Trust of India reported.
He also said that no other leader of the Communist Party of China had openly acknowledged the role of religion in Chinese society for many decades.
"I think till 30 years ago... or even 15-20 years ago, no other Communist party leader (was seen) showing some respect to or appreciation of Buddha dharma," the Dalai Lama said, while urging China to give freedom to Tibetans to preserve their culture.
The Dalai Lama also spoke on issues of increasing violence around the world.
Condemning the atrocities by Islamic extremists in the Middle East, the Dalai Lama also pulled up Buddhists in countries such as Sri Lanka and Myanmar for perpetrating violence against Muslims.