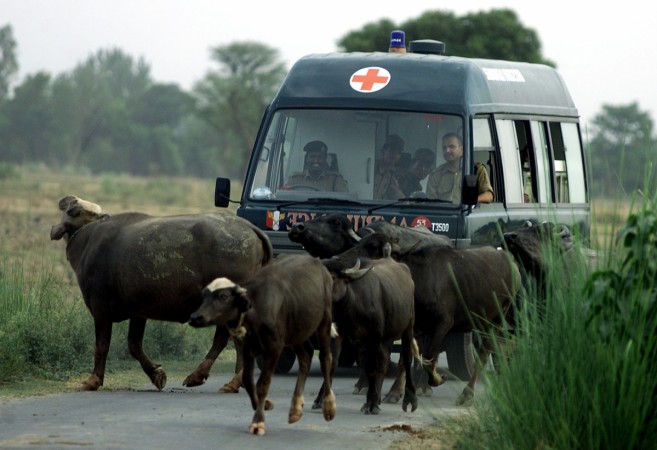 A raiding party constituted to clamp down on illegal diaries in Jabalpur was shell-shocked on Saturday when dairy owners let loose a herd of buffaloes to scare them away. The town inspector and nearly a dozen people were injured in the charge of the bulls followed by stone pelting.
As many as 500 bulls found new stomping grounds on NH7 halting traffic for several hours. In the end, it turned out to be a lose-lose situation for both sides of the divide with the raid put on hold while the owners of diaries will now face criminal charges.
The district administration had earlier identified as many as 20 dairies near Imliya village on the banks of river Pariyat. The raiding team comprising policemen and Corporation officials from Jabalpur, and Pollution Contro Board went to evict them. However, the dairy owners received a tipoff on the raid.
No sooner the officials arrived, the bulls were unleashed on them, injuring many. Before the officials could get back on their feet, they were pelted with stones forcing cops to fire at least eight rounds of tear gas followed by lathicharge. The dairy owners vandalised several vehicles on the highway. However, after several hours of struggle, the administration managed to raze six dairies.
Jabalpur senior SP M S Sikarwar said, "First, we had to herd the buffaloes down the national highway and then tear gas was fired to disperse the stone-pelters. Some people have been rounded up for investigation."
Sub-divisional majistrate Om Namah Arjaria said, "The administration has started action against the dairies in compliance with the orders of High Court and National Green Tribunal. Despite HC orders, owners of 90 dairies have not applied for license from PCB. Nearly half a dozen dairies were razed amid protests by dairy owners. Traffic resumed on the national highway after 2 pm."