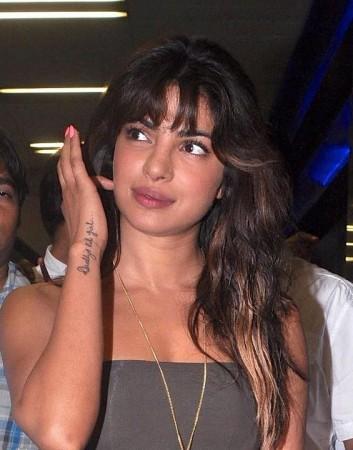 Celebrities often gain attention for body art whether it be names or portraits of their loved ones inked on their skin, and the latest to join the fray is Bollywood star Priyanka Chopra who was recently spotted with an endearing tattoo on her wrist.
On early Saturday, the actress, who looked striking in a gray full-length strapless jumpsuit and a new hairdo, made a statement at the Chhatrapati Shivaji International Airport with a tattoo dedicated to her father. The tattoo on her right wrist read "Daddy's lil girl".
Priyanka was on her way from shooting her first album in Malibu, Los Angeles, when the shutterbugs snapped her at the Mumbai airport. The actress wasted no chance in showing off her new tattoo and was seen running her hand through her hair to make sure that the tattoo was visible.
"Priyanka went to Malibu to shoot a video for her music album and got inked there. She is not willing to talk about the tattoo right now but she is happy to get it done," Daily Mail quoted a source as saying.
Onlookers were curious to know whether the tattoo was permanent or not, which Priyanka didn't elaborate upon. The actress is very close to her father, Dr Ashok Chopra, who was not keeping well for quite some time now.
"Priyanka had been planning to get a tattoo for a real long time now. And she thought that this tattoo conveys her emotions perfectly. It's really special to her as she's extremely close to her father," DNA Newspaper quoted a source as saying.
The actress was long yearning to get inked, which her mother dissuaded her from doing so. After much convincing, Priyanka finally succeeded to get herself inked for the first time.
Other B-town celebrities known for their tattoos are Deepika Padukone, Hrithik Roshan, Akshay Kumar, Sanjay Dutt, Ajay Devgn, Saif Ali Khan and Malika Arora Khan.