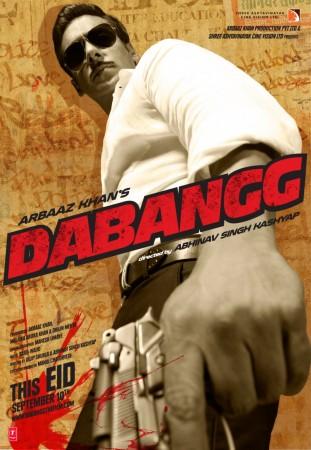 Action, comedy film "Dabangg 2" starring Salman Khan and Sonakshi Sinha in lead roles was released on Friday. Directed by Arbaaz Khan, it received mixed reviews from the critics in India.
Here's what critics have to say about the action comedy film:
Rubina A Khan of Firstpost said: "Dabangg 2 released today with sky-high expectations from Salman Khan fans and the superstar powered it through with his endearing Chulbul Pandey act once again to an enthralled audience.
"Whistles echoed in the theatre as soon as the beloved hero of India came on screen in his police uniform, kicking the brains out of some petty kidnappers as Inspector Chulbul Pandey.
"Dabangg 2 is poised for a crore-ing run at the box office, regardless of what I have to say here."
Taran Adarsh of Bollywood Hungama said: "DABANGG 2 is a typical Bollywood film. It's the kind of cinema we relished in the 1980s and enjoy to this date, but narrated in today's lingo and format. It may/may not make sense to you, but Arbaaz and team ensure that you are entertained. Thoroughly entertained, actually. It's riotous, outrageous, wacky, ambitious, absolutely madcap, transports you to an altogether different world. Add to it a sprinkling of desi songs, wicked sense of humor, with Chulbul Pandey taking on the antagonist like the vintage hero would -- with fearlessness and daredevilry.
"For those who adore masala movies, celebrate mainstream cinema, relish the cinema of yore and of course, hero-worship Salman Khan, DABANGG 2 is your ticket this festive season.
"On the whole, DABANGG 2 has Salman Khan, Salman Khan and Salman Khan + Entertainment, Entertainment and Entertainment in large doses. The film has the masala to work big time with the masses."
Rajeev Masand of CNN-IBN said: "Given that Dabangg 2 is a family production in every sense of the term - Salman Khan stars, his brother Arbaaz directs, Arbaaz's wife Malaika Arora produces, and their sister Alvira Agnihotri does costumes - you can't help but wonder why no one thought of roping in their father, veteran screenwriter Salim Khan, to slap the script into shape. Because while there's some fun to be had watching Chulbul Pandey bash up the bad guys again and share a tender romance with his missus, nothing even remotely interesting happens in this film.
"I'm going with a generous two-and-a-half out of five for Arbaaz Khan's Dabangg 2. What this film needed was personality and character; what it's left with is sameness. But that's probably enough for Salman Khan fans."
Shilpa Jamkhandikar of Reuters said: "It seems unfair to devote a whole review to Arbaaz Khan's "Dabangg 2", given that this is hardly a film. As a friend said, it's a collection of deleted scenes from "Dabangg" that have been put together haphazardly to make the skeleton of a film.
"Just as Salman Khan makes no pretence about acting, brother Arbaaz Khan makes no pretence about directing. "Dabangg 2" is an endless sequence of comedy-song-fight-romance. I can almost imagine the director mentally counting the time elapsed between a fight sequence and a song."
Roshni Devi of Koimoi.com said: "Remember when all Salman Khan movies started looking the same? This is just another chip off the old block. It's heart-warming to see that the extra reel from Dabangg was put to some good use.
"If you're looking for something new in Dabangg 2, you will be disappointed. Dileep Shukla's script and screenplay is very similar to Dabangg; while this is amusing in some parts, it looks lazy in others.
"Dabangg 2 is like the poorer clone of its precursor, but it's enjoyable with the action, Kung Fu Pandey, dollops of romance, songs and the rib-tickling comedy."