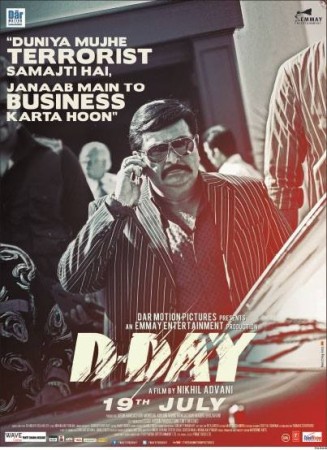 "D Day", a crime thriller starring Arjun Rampal, Rishi Kapoor, Irrfan Khan, Shruti Haasan, Sandeep Kulkarni and Huma Qureshi, was released on Friday (19 June).
Directed by Nikhil Advani, the film is about four Indian agents who are on a mission to arrest a don named Iqbal Seth, played by Rishi Kapoor, from Pakistan.
"D Day" garnered positive reviews for its flawless plot and impressive performance by the film's cast. The music also fetched good response from the audience.
Check out what critics have to say about the film:
Srijana Mitra Das of Times Of India says: "Straight up, D-Dayis explosive at three levels. The plot crackles. The acting sears. And the music flares with passion. Four Indian agents, angry and RAW, enter Pakistan to bring Iqbal Seth (Rishi Kapoor), a Dawood-like don, hated for his terrorism, home. Wali Khan (Irrfan) has married a local woman and fathered a child, but longs to find freedom from the truth and lies he lives. Irrfan amazes, switching from tender to treacherous in a flash, authentic as he calls out "Rudar!" to Rudra Pratap Singh (Arjun), a man of molten mysteries, introduced with a Lawrence of Arabia-like flair.
"Arjun looks smashing and pulls off a competent act while Zoya (Huma) does well as a cutie-pie who can squeeze a knife real bad. Aslam (Aakash Dahiya), a gangster-turned-agent, forms the fourth wheel, but Rishi Kapoor stands out as Iqbal Seth, with his polyester-like silky malevolence, his mocking manipulations, his eyes behind red goggles, both frightened and frightening.
"..the second half refreshes your palate, sizzling sequences between Wali, Rudra and Iqbal Seth leaving you open-mouthed, the 'c' in this climax clearly for controversy.
"Note: You may not like this movie if you don't enjoy violent thrillers where things go off with a bang."
Taran Adarsh of BollywoodHungama says: "What makes D-DAY relevant and relatable is the fact that Nikhil borrows from real-life headlines/occurrences and gives it a new spin altogether, interpreting the story his way. The basic premise of the film -- RAW agents being assigned the task of bringing back the fugitive crime lord back to India -- evokes tremendous curiosity, but at the same time, Nikhil knows that since the subject matter is sensitive and volatile, it ought to be tackled with extreme concern and caution. Thankfully, Nikhil treats this explosive theme with extreme care.
"D-DAY tackles a knotty issue and it's imperative that Nikhil stays close to authenticity. The demanding plot and the edgy, gritty and raw situations, besides the ambience [recreating Karachi], makes this espionage thriller so different from the gangster films we have witnessed on the Hindi screen thus far. The four patriots, each with a back story, joining hands for a common mission, their expedition and how the hunters become the hunted in the neighbouring country gives the film that edge and power that's hard to expunge from memory.
"Nikhil reserves the best for the finale. The fight at the border and what ensues blows your mind and can easily be termed as the icing on the cake. Sure, Nikhil and his writers run their imagination wild here, but let me tell you, this finale is sure to meet with wild cheers. The sole hiccup is that the film appears elongated and could've been short and snappy by 10/15 odd minutes. A succinctly narrated theme only aids in augmenting the overall impact, as we know by now.
"On the whole, D-DAY is what a well-made thriller ought to be -- taut, transfixing and spellbinding, with an astounding finale. Don't miss this high-octane thriller!"
Subhash K Jha told IANS : "...Nikhil Advani's sixth feature film is an acutely accomplished work of art. It's a thriller, yes. About the enforced extradition of a Dawood-like gangster.
"The screenplay by Advani, Ritesh Shah and Suresh Nair constructs a collage of characters hell-bent on a collision course. Though rigorously researched, the erudition sits easily, spontaneously and unobtrusively on Advani's narration.
"The story of a bunch of RAW agents on a mission in Pakistan to nab "India's Most Wanted" is told in a tone that favours a detached distance from the proceedings while ensuring we see each character's life in prismatic close-ups.
"Though a deeply patriotic film, D-Day indulges in no flag-waving. The Indian flag makes one guest appearance, and that too at the end. God bless Manoj Kumar.
"The cinematography by Tushar Kanti Ray uses cluttered garish spaces to create a sense of spiritual emptiness during times of tremendous stress and anxiety. This is a film with world-class action scenes. But it is not an action film. It's a film about love and loss. But it isn't a love story.
"... With this one film, Advani joins the ranks of the most accomplished young filmmakers of Hindi cinema and by far Karan Johar's Dharma Productions proudest product."
Mohar Basu of Koimoi says: "Nikhil Advani's D-Day traces a labyrinthine story of India's unsung war heroes. With its chilling action scenes and thrilling emotional quotient, D-Day is perhaps one of recent times' most rivetingly told stories. With Bollywood celebrating Dawood mostly, here's a filmmaker who has made a daunting movie which effortlessly gives the character its correct hue.
"The script of this gritty thriller is based on the lines of Zero Dark Thirty, naturally sketching it on an Indianized canvas; the film is 2 hours plus of sheer edge-of-your-seat thrill. For most part, the story sticks to being purely artistic even as its revels in nail biting action. Emotionally wrenching and ripping, the story of D-Day follows the lives of 4 war heroes who are on a mission ala 'The Charge of The Light Brigade'. Advani absorbs us easily into his story as he uses the tool of terrifying realism and paints the terrifying picture of atrocities that we have incurred in the name of terrorism.
"Nikhil Advani's D-Day is by far one of the India's most applausive high octave action films, which has a charming rendition in terms of an emotional plot. Appealing performances and the menacing story makes for decadent palette. I am going with a 4/5 for this well textured, fabulous film that will leave you speechless and overwhelmed without becoming imposingly patriotic."
Sneha May Francis of Emirates 24/7 says: "It's edgy. It's gritty. It's something purists might find tough to stomach. Yet, it's something that can't be ignored. Never have we seen men fight and punch with such raw, terrorizing rage, impacting us immeasurably. Taking into account that India's infamous don has found innumerable references in Bollywood frames, mostly those that romanticizes his misgivings, it's truly commendable that there's one filmmaker who dared to break that tradition. Nikhil's solution would (literally) blow your mind away, and would most definitely be applauded."