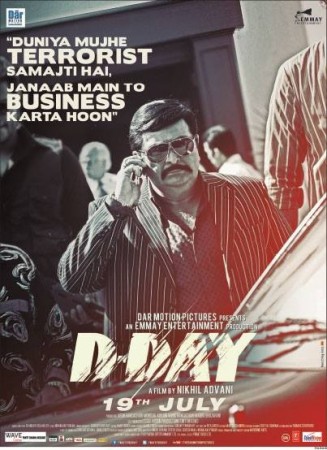 Arjun Rampal , Rishi Kapoor and Irrfan Khan starrer "D Day " earned approximately ₹13.69 crore in the opening weekend.
Directed by Nikhil Advani, the crime thriller is about four Indian agents who are on a mission to arrest a Pakistani don named Iqbal Seth, played by Rishi Kapoor.
"D Day" garnered positive reviews for its flawless plot and impressive performance by the film's cast. The music, composed by Shankar-Ehsaan-Loy also fetched good response from the audience.
The film opened to a poor response on the first day at the domestic box office, but its collections gradually improved on Saturday due to positive word of mouth.
"D Day" had earned just ₹2.94 crore on its opening day but it picked up pace on Saturday and Sunday raking in ₹4.75 crore and ₹6 crore, respectively.
"#DDay collected approx Rs 13.69 cr nett in its opening weekend. Breakup:- Fri 2.94 cr, Sat 4.75 cr, Sun *est* 6 cr" Frilm critic and Trade Analyst Taran Adarsh tweeted.
Apart from Arjun Rampal , Rishi Kapoor and Irrfan Khan, "D Day" also stars Shruti Haasan, Sandeep Kulkarni and Huma Qureshi.
Speaking about the film and director Nikhil, Arjun said, "I give him (Nikhil) a 100/100 for giving Indians the film their way - with romance, emotions, drama and a message. This movie shows what RAW agents go through to save people's lives. Their pictures never make it to the papers. If they fail, it's their responsibility. But, they still go out there. D-Day is a story of these real heroes," Times of India reported.
"I feel all my efforts have paid off. My producers call every day, wanting to increase my security cover because of this film. I know I am at risk, but I wanted to do this film. People want a hero, and I tell them, you take this hero. Every Indian should see this movie as proof that you can do what you want to do. And you don't need to please anybody. Mr Bachchan said he wishes he was born now, when such cinema is being made. It was the best compliment ever," he added.