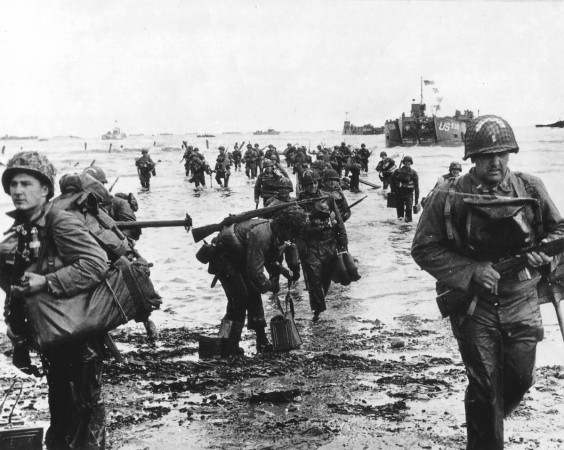 The 71st anniversary of D-Day will be observed on 6 June in the United States to remember the sacrifices of American soldiers at the beaches of Normandy in 1944.
Over 10,000 American soldiers and other Allied forces were killed and wounded in the Normandy landings in France on 6 June, 1944.
Hailed as the largest seaborne invasion in history, about 160,000 Allied troops landed on the beaches to fight Nazi soldiers in an operation that marked a turning point in the Second World War.
D-Day History
General Dwight D. Eisenhower called the operation 'Operation Neptune' that supported Overlord' a crusade and said "we will accept nothing less than full victory".
The Normandy invasion is hailed as one of the greatest military attacks in history, an operation that eventually led to the downfall of the German Nazi army.
However, according to a White House factsheet, the Allied forces paid a heavy price for the victory. "From D-day through August 21, the Allies landed more than two million men in northern France and suffered more than 226,386 casualties: 72,911 killed/missing and 153,475 wounded."
Here are some moving and memorable quotes to once again remember the sacrifices of the soldiers.
D-Day Quotes
"And what a plan! This vast operation is undoubtedly the most complicated and difficult that has ever occurred.'' -- Winston Churchill
"It was unknowable then, but so much of the progress that would define the 20th century, on both sides of the Atlantic, came down to the battle for a slice of beach only 6 miles long and 2 miles wide." -- President Barack Obama
"Lieutenant Welsh remembered walking around among the sleeping men, and thinking to himself that 'they had looked at and smelled death all around them all day but never even dreamed of applying the term to themselves. They hadn't come here to fear. They hadn't come to die. They had come to win." -- Stephen E. Ambrose, Band of Brothers: E Company, 506th Regiment, 101st Airborne
"We know that progress is not inevitable. But neither was victory upon these beaches. Now, as then, the inner voice tells us to stand up and move forward. Now, as then, free people must choose." -- President Bill Clinton
"That road to V-E Day was hard and long, and traveled by weary and valiant men. And history will always record where that road began. It began here, with the first footprints on the beaches of Normandy." -- President George W. Bush
"When pressure mounts and strain increases everyone begins to show the weaknesses in his makeup. It is up to the Commander to conceal his: above all to conceal doubt, fear, and distrust." -- General Dwight D Eisenhower
"These are the boys of Pointe du Hoc. These are the men who took the cliffs. These are the champions who helped free a continent. These are the heroes who helped end a war." -- President Ronald Reagan
"We want to get the hell over there. The quicker we clean up this goddamned mess, the quicker we can take a little jaunt against the purple pissing Japs and clean out their nest, too. Before the goddamned Marines get all of the credit." -- General George S Patton Jr
"These are the boys of Pointe du Hoc. These are the men who took the cliffs. These are the champions who helped free a continent. These are the heroes who helped end a war." -- President Ronald Reagan
"They fight not for the lust of conquest. They fight to end conquest. They fight to liberate." -- President Franklin D. Roosevelt