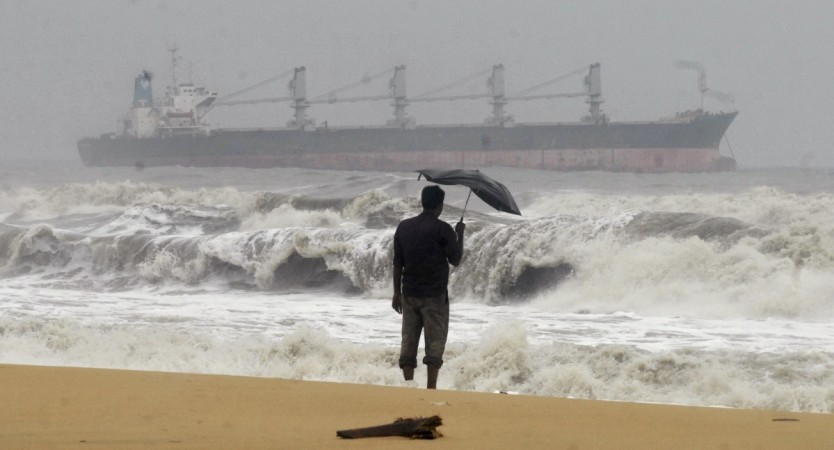 A cyclone could descend on the southern states of Tamil Nadu and Andhra Pradesh, and Union Territory Puducherry, in the next 48 hours, the India Meteorological Department (IMD) said on Wednesday. The northern part of Tamil Nadu and southern Andhra Pradesh are expected to witness rough to very rough" sea conditions.
"Fishermen are advised not to venture into the sea along and off Tamil Nadu and Puducherry and south Andhra Pradesh, Kerala coasts and the Lakshadweep area during the next 48 hrs," the IMD said in a bulletin on Wednesday.
Heavy rainfall is predicted in north coastal Tamil Nadu and Puducherry in the next 24 hours, the IMD said.
The depression in the Bay of Bengal has caused heavy rainfall in Chennai and Kerala in the last 48 hours. The IMD said on Tuesday heavy rainfall would continue in Tamil Nadu and Kerala in the next 24 hours. The depression moved northwards towards the east of Tamil Nadu on Tuesday. You can see the movement of the depression here.
Chennai, which received 62 mm rainfall between Monday and Tuesday, faced the highest amount of rainfall on a day in the month of May in the last five years, India Today quoted an IMD report as saying. Chennai experienced the heaviest rainfall in May 2016 since the December 2015 downpur that led to flooding and massive destruction.
The National Disaster Response Force (NDRF) has issued a flood alert and evacuated people from Alappuzha in Kerala after sea water levels rose and water entered residents' homes, News 18 reported. The heavy rainfall in Chennai brought back fears of flooding, even as Tamil Nadu is trying to recover from the last one.
Voting for the Assembly polls in Tamil Nadu and Kerala were affected by the rains on Monday.