As promised earlier, a joint expert team of World Bank (WB) and Asian Development Bank (ADB) visited cyclone-hit Ganjam district in Odisha to assess the damage caused by the landfall of Cyclone Phailin last month.
On October 12, Phailin made a landfall packed with wind speeds of over 200 kmph, making it the strongest cyclone in 14 years to hit the disaster-prone state. The rain fury in the state killed 39 people.
In Ganjam, 17 Out of 22 blocks, including Aska, Polsara, Chikiti, Purusottampur, Rangeilunda and Shergad were among the worst affected.
The 14-member team of the agencies, accompanied by Odisha government officers, divided themselves into groups to visit slums in Berhampur and coastal villages in Ganjam, Chhatrapur and Rangeilunda to assess the damage caused by Phailin, a senior officer told PTI.
Both the international agencies have agreed to finance $313 million as assistance to Odisha government for rehabilitation and restoration work in the cyclone-hit state. The team was led by Deepak Singh, who is a senior disaster risk management specialist.
"The team has sought some added information regarding the damage and we will provide them soon in proper format," Prem Chandra Choudhury, project director at District Rural Development Agency, told the news agency.
The team submitted reports on the damage caused, and discussed about the current situation in the district with the administration at Chhatrapur.
Ganjam district administration had recently announced that around 18,000 families in 113 villages in five coastal blocks would be shifted to safer places in pucca houses at a cost of ₹450 crore.
"The WB and ADB have agreed in principle to provide the assistance. The international banks are likely to sanction the amount after assessing the damage," Revenue Minister S N Patro had said earlier.
Before cyclone Phailin hit the state near Gopalpur, the Odisha government was successful in evacuating a million residents living around the coastline.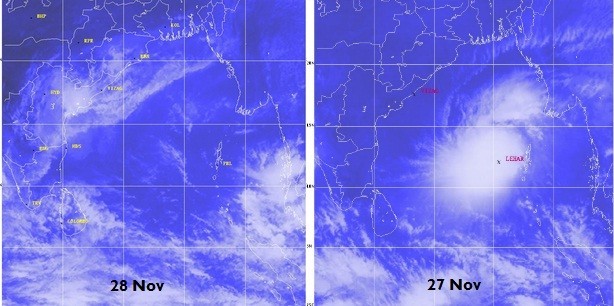 On Thursday, the state nearly escaped from being hit by another tropical cyclone 'Lehar' that weakened before making a landfall in Kakinada in the neighbouring state of Andhra Pradesh.
The Indian Meteorological Department had warned Odisha government of heavy rainfall in pockets of south Odisha. The IMD at the capital city of Bhubaneswar cautioned fishermen not to venture into the sea. "Rain or Thunder shower may occur at one or two places over South and Interior Odisha during next 24 hours," IMD said.