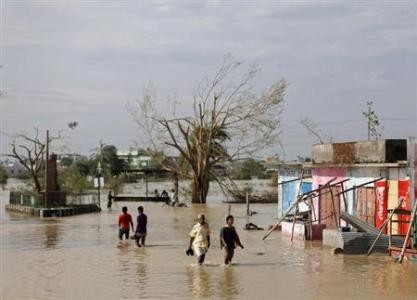 In the aftermath of Cyclone Phailin, the Indian Armed forces have been pressed into relief and rescue operations in the flood-affected regions of Odisha, Bihar, Jharkhand and West Bengal.
"Eleven composite columns of Army comprising Infantry and Engineer elements are positioned for flood relief operations in Odisha and Jharkhand," the Ministry of Defence said on Tuesday.
Two composite columns are carrying out flood relief operations in Aska and Pitala areas in Ganjam District. One column is pressed into service in Balasore, where eight villages are in need of relief and assistance, while the other column is working in Jamshedpur.
The Defence Crisis Management Group (DCMG) has been holding daily meetings with the representatives of all Armed Services, Coast Guard, National Disaster Management Authority and State Governments to carry out a holistic assessment of the ground situation and allocate resources in the flood-affected areas.
Indian Air Force (IAF) flew four Mi-17 helicopters flew for relief and rescue operations in Balasore and Chandipur in Odisha on Monday. An IAF helicopter airlifted about two tonnes of flood relief stores and rescue materials to Balasore. Three more choppers carried out aerial dropping of food packets worth about 5.7 tonnes.
A composite diving team of Navy has been airlifted to Chandipur. The Navy has also transported eight tonnes of beaten rice and four tonnes of jaggery from Vizag to Berhampur.
Coast Guard ship Samudra Peharedar is carrying out a survey off Sagar Island, where the Panamanian ship MV BINGO had sunk recently due to the cyclone. Also, an air-sea coordinated search and a rescue-recce operation is being carried out to ascertain any oil spill or debris from the sunken merchant ship.
A 37-member IAF Rapid Action Medical Team (RAMT), comprising a surgeon, anaesthetist, medical officer and two nursing officers and other paramedics have been stationed in Odisha to attend to the medical emergencies caused by Cyclone Phailin.
The IAF Training Command in Bangalore said that it positioned six Mi-8 helicopters, three AN 32 aircraft and an air ambulance medical team to fly at short notice for the rescue and relief activities.