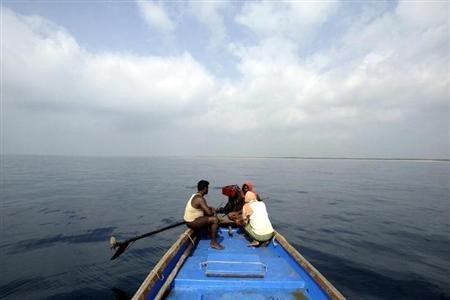 The states of Andhra Pradesh and Odisha have been put on high alert, with the impending cyclone, Phailin, growing to half the size of India.
Tens of thousands of residents from low-lying coastal areas have been evacuated, after the Indian Met Department (IMD) forecast a risk to lives once the storm hits at 6pm on Saturday.
IMD said the 'very severe cyclonic storm' with wind speeds of 210-220 km per hour (130-135 mph) would hit between Kalingapatnam in Andhra Pradesh and the major port of Paradip in Odisha.
The US Navy's Joint Typhoon Warning Centre has predicted wind gusts of up to 305 kph at the time of landfall. On Friday, coastal areas of both states experienced downpour as the Phailin intensified.
Five districts of Srikakulam in Andhra Pradesh and Ganjam, Puri, Khordha and Jagatsinghapur in Odisha are likely to witness the worst of Phailin.
"We plan to evacuate about 100,000 families in Ganjam district by tomorrow morning," Odisha state's Special Relief Commissioner, Pradeep Kumar Mohapatra, told Reuters. More than 5,000 families have already been moved into shelters and schools, stocked with rations.
A London-based storm tracking service Tropical Storm Risk has put Phailin in the most intense Category 5 of storms, comparing it to the 'super cyclone' of 1999, when Odisha struggled for 30 hours with wind speeds reaching 300 kph and nearly 10,000 people were killed.
"A recent satellite estimate put Phailin's current intensity on par with 2005's Hurricane Katrina in the United States and just barely stronger than the 1999 cyclone at its peak. That would mean Phailin could be the strongest cyclone ever measured in the Indian Ocean," said Eric Holthaus, a meteorologist for Quartz magazine.
And to deal with the 'strongest cyclone' in the tropical region, National Disaster Management Authority has outlined precautions to be taken, during the event of a cyclone based on four classes.
Before the Cyclone season
Check the house; secure loose tiles, carry out repair works for doors and windows.
Remove dead woods or dying trees close to the house; anchor removable objects like lumber piles, loose tin sheds, loose bricks, garbage cans, sign-boards etc. which can fly in strong winds.
Keep some wooden boards ready so that glass windows can be boarded if needed.
Keep a hurricane lantern filled with kerosene, battery operated torches and enough dry cells. Keep some extra batteries for transistors
Keep some dry non-perishable food always ready for emergency use. Also store extra drinking water in suitably covered vessels.
When the Cyclone starts
During such natural disasters communication services like TV, smartphones could be disrupted. That's when a radio could come in handy as All India Radio is the only channel authorised to give weather warnings. Keep monitoring the warnings.
When the residential area is under cyclone warning get away from low-lying beaches or other low-lying areas close to the coast.
If the house is built on high ground, take shelter in the safer part of the house. However, if asked to evacuate do not hesitate to leave the place.
Move the valuable articles in the house to upper floors so as to minimize flood damage.
Board up glass windows or put storm shutters in place. Provide strong suitable support for outside doors.
If you do not have wooden boards handy, paste paper strips on glasses to prevent splinters. However, this may not avoid breaking windows.
Switch off electrical mains in the house.
Have hurricane lantern, torches or other emergency lights in working conditions and keep them handy.
Be sure that a window and door can be opened only on the side opposite to the one facing the wind.
If the centre of the cyclone is passing directly over the house there will be a lull in the wind and rain lasting for half hour or so. During this time do not go out; because immediately after that very strong winds will blow from the opposite direction.
If evacuation is instructed
Pack essentials for yourself and the family to last a few days, including medicines, special foods for babies and children or elders.
Head for the proper shelter or evacuation points indicated for your area. At the shelter follow instructions of the person in charge. Remain in the shelter until you have been informed to leave
Post-cyclone
One should remain in the shelter until informed otherwise.
One must get inoculated against diseases immediately.
Strictly avoid any loose and dangling wires from the lamp posts.
Clear debris from your premises immediately.
Report any damage or property loss to appropriate authorities