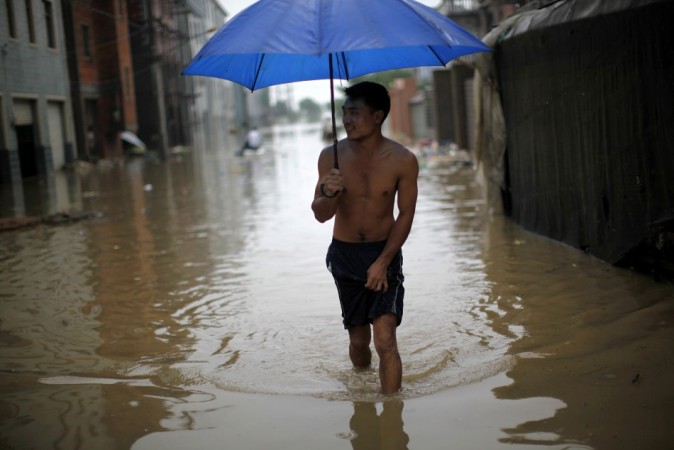 Coastal areas of Andhra Pradesh and Odisha witnessed heavy rains as the 'very severe' cyclone storm Phailin intensified further on Friday.
With wind speeds of up to 200 kmph, the cyclonic storm over east central Bay of Bengal has moved westwards and is forecast to hit between Kalingapatnam in Andhra Pradesh and Paradip in Odisha state on October 12 where it would make landfall.
At the time of landfall, sea along and off Odisha and north Andhra Pradesh coast would become phenomenally rough, IMD director Sarat Sahu told PTI.
Cyclone Phailin would increase in intensity with wind speeds of a gale reaching 175-185 kmph along and off coastal districts of south Odisha and north Andhra Pradesh.
"It would continue to move north-westwards and cross north Andhra Pradesh and Odisha coast between Kalingapatnam and Paradip, close to Gopalpur (Odisha) by evening of 12th October, 2013 as a very severe cyclonic storm with a maximum sustained wind speed of 190-200 kmph," Met department in Bhubaneswar said in a statement.
During the next 24 hours, interior and large parts of coastal Odisha will witness thundershower due to this year's strongest cyclone formed on the Indian seas.
"Under the influence of this system, rainfall at most places with heavy to very heavy falls at a few places with isolated extremely heavy falls (≥ 25cm) would occur over coastal Odisha commencing from 12th October 2013 morning. It would continue and extend to interior Odisha," added the Met department.
Odisha CM Naveen Patnaik has sought assistance from the Indian Air Force and the Indian Navy in relief and rescue operations.
Meanwhile, people across the coastal region comprising 15 districts and in the state capital Bhubaneswar have begun stocking up food, candles and matchboxes, reported the news agency.