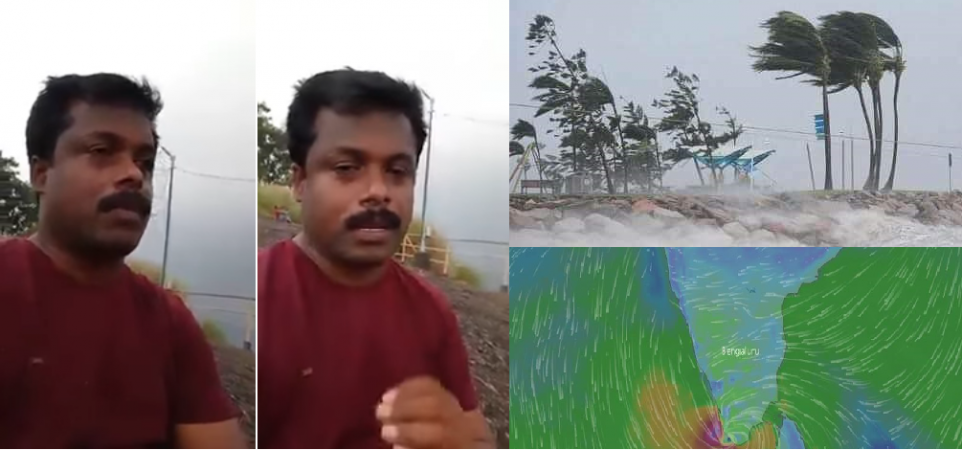 Remember watching the video of a man, who predicted about a cyclone that is going to affect the life of people in Kerala? In the wake of cyclone Ockhi claiming the lives of eight people in Tamil Nadu and Kerala, looks like his forecast is turning out to be correct.
Check: Cyclone Ockhi: Here's a checklist on how to remain safe
In the viral video shot on October 26, the man claimed to have revelations from Jesus Christ while praying in Malayatoor in Kerala.
Through the video , he had warned everyone to pray especially on November 23. He had also predicted an earthquake in the state and said that before Good Friday in 2018, a cyclone will also hit the south Indian state.
According to the Indian Meteorological Department, Cyclone Ockhi is expected to head towards Lakshadweep in the next 24 hours due to which there will be rains in Tamil Nadu, south Kerala and Lakshadweep.
Also read: Indian man's massive earthquake and tsunami prediction sets off alarm bells in Pakistan
The man, who had earlier predicted the death of few famous people, has again said that the demise of three more popular personalities will shock us. "Three famous people will also die soon. We will be shocked to hear the death of one of them on television and social media," he had then said.
It has to be noted that popular actor Abi, who is called the king of mimicry in Malayalam, breathed his last on November 30. His untimely demise due to low platelets count on Thursday had shocked the entire Mollywood film fraternity and fans.
His video message has again started going viral online since Cyclone Ockhi made headlines and has now raised the alarm among netizens about the earthquake he had warned about.
"When I initially watched the video, I didn't believe him at all. But now, with this cyclone, I think his predictions are right. Also actor Abi's unexpected demise too shocked us on November 30. Scary it is [sic]," commented a netizen.
Watch the viral video here: