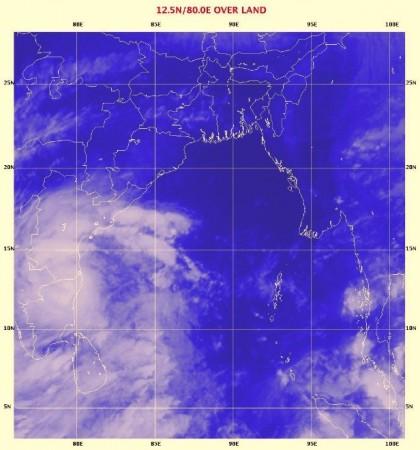 At least four people were killed as cyclone Nilam swept across the coastal areas of Tamil Nadu, Andhra Pradesh and Ponducherry on Wednesday.
Indian Meteorological Department (IMD) observatories indicate that the maximum wind speed of 75 kmph was reported over Chennai and 65 kmph over Kalpakkam at the time of landfall that evening. The cyclonic storm weakened the following day.
The Coast Guard rescued 15 sailors on Thursday morning and the search for six others, who went missing on Wednesday, is still on.
A life boat carrying 22 people capsized in south Chennai due to gusty winds, leaving one dead. They were trying to escape after the ship Pratibha Cauvery with 37 crew members ran aground due to bad weather.
One person had reportedly died in Vilupuram in a wall collapse due to heavy rain and another person was electrocuted in Thiruvannamalai, Tamil Nadu. A 46-year-old man died in Puducherry after he slipped and drowned in the sea while watching the cyclone with his friends.
Heavy rain lashed Chennai, Bangalore and most parts of South India on Wednesday. About 4,000 people staying in the Mahabalipuram coast were evacuated. Authorities were forced to close schools, colleges and offices in Chennai.
"Cyclonic storm Nilam moved north-northwestwards, crossed north Tamilnadu coast near Mahabalipuram, south of Chennai (near latitude 12.60 N and longitude 80.20 E) between 1600 and 1700 hrs IST of today (Wednesday)," Indian Meteorological Department (IMD) said a statement on Wednesday.
"System would move northwestwards and weaken into a deep depression during next 06 hours," IMD had predicted.
The IMD on Wednesday warned that "rainfall at most places with heavy to very heavy falls at a few places and isolated extremely heavy falls (25 cm or more) would occur over north coastal Tamil Nadu and Puducherry during next 12 hrs." It also said that south coastal Andhra Pradesh, Rayalaseema and Puducherry would experience heavy rainfall with wind speed from 65 kmph to 85 kmph in the next 12 hours.
The National Disaster Management Authority (NDMA) too had issued an alert that the cyclone would hit parts of Tamil Nadu, Andhra Pradesh and Puducherry with wind velocity of 80-100 kmph on Wednesday.