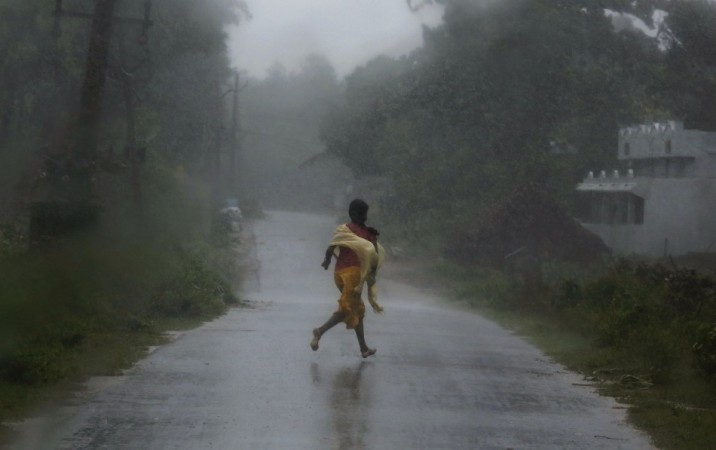 As tropical cyclone 'Helen' is set to make landfall on Friday afternoon in Andhra Pradesh, the Congress-led government is evacuating more than four lakh people from the eastern coast.
Packed with winds up to 120 kmph, Cyclone 'Helen' will make a landfall on Friday, reported PTI. The severe cyclonic storm will cross districts of Nellore and Machillipatnam. It is currentl located 260 km east-southeast of Machillipatnam.
"Extremely Heavy rain would occur at isolated places in the districts of Krishna, Guntur, Prakasam Nellore of Coastal Andhra Pradesh on 21st and 22nd November,2013," the Indian Meteorological Department in Hyderabad said in a statement.
The powerful storm will hit the coast with heavy rainfall on Thursday night between Sriharikota and Ongole, close to Kavali. "Heavy to Very heavy rain would occur at a few places in all the districts of Coastal Andhra Pradesh during next 48 hours from 20.11.2013 night," said the IMD.
As per PTI report, the National Disaster Management Authority had asked the Kiran Kumar Reddy-led government for zero casualty preparedness. Massive evacuation plans were unfolded by the government in the four districts on the Andhra coastline.
"We have asked the state government to ensure zero casualties. They have already started evacuating people living along the coastline to safer places," M Shashidhar Reddy, NDMA Vice Chairman, told PTI.
Disaster management teams have been deployed in the four coastal districts, while National Disaster Response Force (NDRF) has deployed its six teams in Kavali in Nellore district.
District collectors of Krishna and Guntur have also been instructed to take precautionary steps during landfall of the storm.
Danger signals ranging from number III to VII have been hoisted at major ports of Krishnapatnam, Nizampatnam and Machilipatnam, Vadarevu, Kakinada, Gangavaram, Visakhapatnam, Bheemunipatnam and Kalingapatnam.
The IMD has issued a weather warning for fishermen, advising them not to venture into the sea for 24 hours commencing 0600 hrs IST on Thursday.
Even neighbouring states of Tamil Nadu and Odisha will witness the heavy rainfall.