Heavy rainfall is expected in Andhra Pradesh as cyclonic storm 'Helen', packed with winds speeding up to 120 kmph, will strike north-east coast at Machilipatnam on Friday afternoon and neighbouring state of Tamil Nadu at night.
"Rain amounts of around 100 mm (4 inches) with locally higher totals of 200 mm (8 inches) are expected across east-central Andhra Pradesh through Friday night," Kristina Pydynowski, senior Meteorologist, told Accuweather. Heavy rainfall in such amounts could cause flash floods and inundate coastal districts, including Guntur, Prakasam, Nellore and Krishna.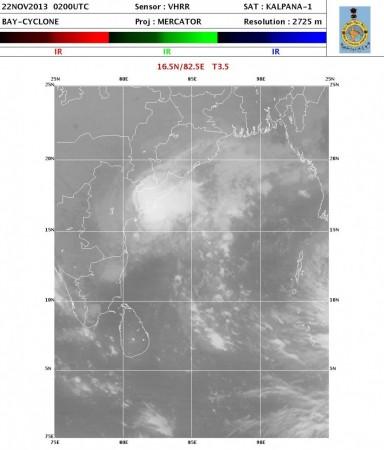 Due to rough sea conditions along and off coastal Andhra Pradesh, the Indian Meteorological Department released a warning for fishermen. "Weather warning for fishermen for Andhra coast valid for next 24 hours commencing from 0600 hrs IST of 22.11.2013," the IMD (Hyderabad) said in a statement. Even fishermen in southern parts of Odisha have been cautioned against venturing out to the sea.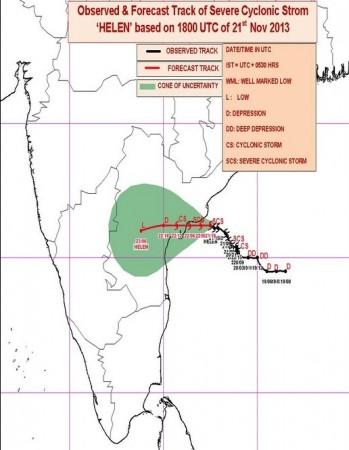 The tropical cyclonic storm, which lay centered over West Central Bay of Bengal on 21 November at about 140 km from Machilipatnam, has advanced in the west northwesterly direction to cross the Andhra Pradesh coastline near Machilipatnam.
"Under its influence, Squally winds speed reaching fifty five (55) kmph to sixty five (65) kmph gusting to seventy five (75) kmph would prevail along and off Coastal Andhra Pradesh," the IMD added.
Chief Minister N Kiran Kumar Reddy had requested the central government on Thursday to release ₹2,145 crore for relief operations. He said that the Centre owes the AP government ₹1,145 crore in arrears, reported PTI.
Teams from the National Disaster Response Force (NDRF) and National Disaster Management Authority (NDMA) have been deployed in Nellore and Prakasam districts. According to IndiaTV, at least four lakh people have been evacuated from coastal villages.
Reddy also vouched for calamity-hit farmers who are regularly affected in the cyclone-prone districts of the state. He has asked the Centre to increase the input subsidy for crops from ₹6,000 per hectare to ₹10,000.
Helpline number for control room in Hyderabad to monitor the relief operations for cyclone 'Helen' :040-23456005, 040-23451043.