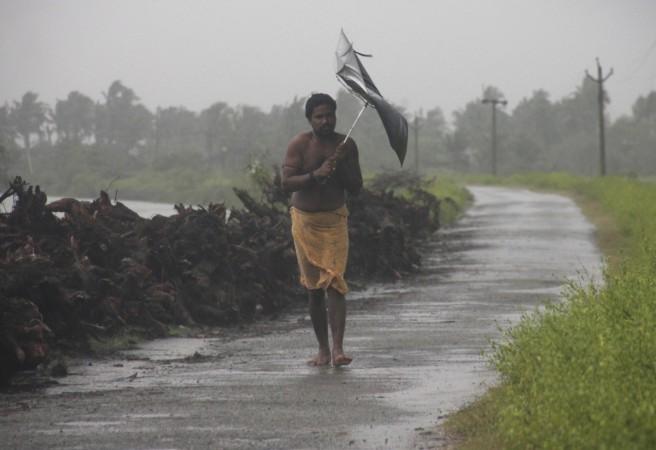 A cyclonic storm that is forecast to hit Bangladesh is likely to cause "heavy to heavy rainfall" in northeastern states, West Bengal, Odisha and Andhra Pradesh in next 2-3 days, the weather office said today, the Press Trust of India reported.
The cyclone, which is in its preliminary stage of "depression", is at present centered about 530 km south-southeast of Visakhapatnam, 730 km south-southwest of Paradip and 1020 km south-southwest of Khepupara (Bangladesh).
"The system is very likely to move initially northwestwards during next 24 hours and then recurve northeastwards towards Bangladesh coast during subsequent 48 hours. It is very likely to intensify into a deep depression during next 24 hours and subsequently into a cyclonic storm," M Mohapatra, head of the Cyclone Warning Division of the India Meteorological Department, told Zee News.
This is the second cyclone in the Bay of Bengal in less than 10 days. Cyclone 'Kyant' occurred in the last week of October, but did not make a landfall.
Surface wind with speed of 45-55 kmph and gusting up to 65 kmph would prevail along and off the Odisha Coast. The sea condition would also be rough to very rough, it said.
Rain or thundershower is likely to occur in most places over coastal Odisha and at a few places in the interior region.
Heavy rainfall is very likely to occur at one or two places over coastal Odisha districts, the MeT office said.
In view of the weather condition, Distant Cautionary Signal Number One (DC-I) has been hoisted in all ports of Odisha. Fishermen are advised not to venture into sea. Those out at sea have been asked advised to return to the coasts.
Following the IMD bulletin, the Special Relief Commissioner (SRC) in a message asked the district collectors to keep a close watch on the situation and take necessary measures to deal with it.
Farmers were advised to keep their harvested paddy under cover in a safe place so as to avoid any damage, a senior official said.