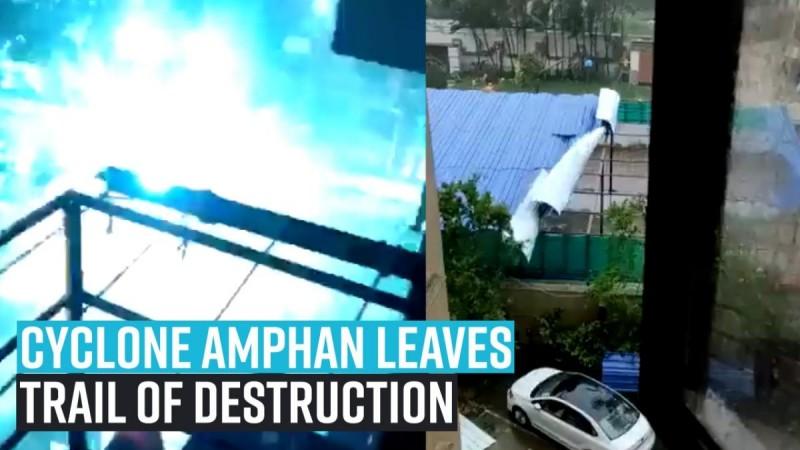 One of the worst storms over the Bay of Bengal in years -- Cyclone Amphan -- has destroyed thousands of homes, leaving authorities struggling to mount relief efforts amid the coronavirus pandemic.
Cyclone Amphan, (pronounced UM-PUN), has wreaked havoc in West Bengal and Odisha, leaving several dead and many injured. State Chief Minister Mamata Banerjee said the situation in West Bengal is more worrying than the COVID-19 pandemic. The chief minister also informed that the state could face losses up to Rs 1 lakh crore in the wake of the damage caused by the cyclonic storm Amphan.
More than 3 lakh people were evacuated from the coastal districts of West Bengal, including East Midnapore, South 24-Parganas, and North 24-Parganas.
Other south Bengal districts like West Midnapore, Howrah, Hooghly, and Kolkata also experienced heavy rain during the cyclonic spell -- one of the worst storms over the Bay of Bengal since 1999.
Amid fears of heavy damage to kutcha and old houses, crops and disruption of road, rail and power links, the West Bengal and Odisha state governments evacuated lakhs from vulnerable areas. Follow ibtimes.co.in's Live Updates on cyclone Amphan.
Live Updates
2020-05-2208:58 (IST)
PM Modi visits Odisha, West Bengal to take stock of the situation
As per latest reports, PM Modi will reach Kolkata at 10.50 am. He will then fly to Bashirhat in a chopper with Bengal Chief Minister Mamata Banerjee. He will also hold meetings with officials in Kolkata from 11 am to 1 pm. He will reach Bhubaneshwar in Odisha at 2.20 pm
2020-05-2114:33 (IST)
NDRF teams working in cyclone-affected parts: PM Modi
Prime Minister Narendra Modi said that the authorities are working on the ground to ensure all possible assistance to those affected. "My thoughts are with the people of Odisha as the state bravely battles the effects of Cyclone Amphan. Authorities are working on the ground to ensure all possible assistance to the those affected. I pray that the situation normalises at the earliest," PM Modi tweeted.
In a series of tweets, PM Modi said, "NDRF teams are working in the cyclone-affected parts. Top officials are closely monitoring the situation and also working in close coordination with the West Bengal government."
PM Modi assured saying that no stone will be left unturned in helping the affected.
Have been seeing visuals from West Bengal on the devastation caused by Cyclone Amphan. In this challenging hour, the entire nation stands in solidarity with West Bengal. Praying for the well-being of the people of the state. Efforts are on to ensure normalcy," read PM's tweet.
2020-05-2112:13 (IST)
High-level meeting today to review losses caused by cyclone Amphan
A high-level meeting of the National Crisis Management Committee (NCMC) has been called today morning to assess the damage caused by Cyclone Amphan. The meeting will be attended by Union Home Secretary, NDMA, NDRF and other disaster management teams.
2020-05-2111:44 (IST)
Amphan leaves trail of destruction in Odisha
Fire and Disaster Services personnel remove an uprooted tree from the roof of a house at Podadiha village in Balasore district of Odisha.
2020-05-2111:39 (IST)
Kolkata Airport flooded in wake of cyclone Amphan
2020-05-2109:00 (IST)
NDRF conducting restoration work in Kolkata
2020-05-2019:00 (IST)
Two dead in West Bengal due to cyclone Amphan
One person from North 24 Pargana district lost his life while another 13-year-old girl died from Howrah after being hit by a flying tin shade.
2020-05-2018:52 (IST)
Power outage, trees uprooted in Kolkata
Cyclonic storm Amphan has disrupted life in Kolkata. As winds with a speed of 90 - 100 kmph sweep through city streets, several areas have reported power outages.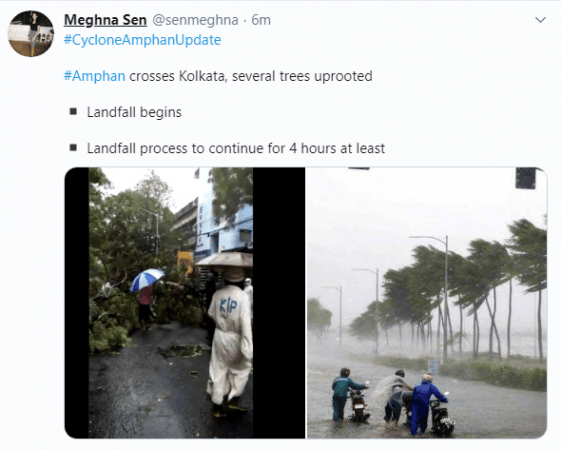 2020-05-2018:34 (IST)
What you need to do if your get stuck in Cyclone Amphan
2020-05-2012:58 (IST)
Cyclone Amphan could bring 4-6 metre high waves
SN Pradhan, NDRF Chief, said, "We're looking at the time and possible speed of Amphan's landing. As per IMD, storm surge could be 4-6 meters of seawater which will enter land area. NDRF teams are coordinating with local administration for storm surge response. 41 teams are deployed in Odisha and West Bengal."
2020-05-2012:57 (IST)
NASA captures cyclone Amphan's position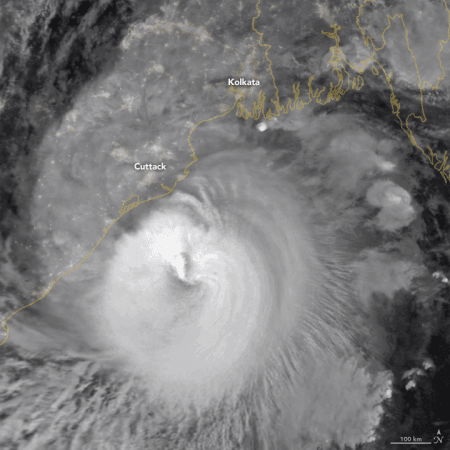 2020-05-2012:49 (IST)
WATCH: Rains accompanied by strong winds lash Bhubaneswar in Odisha