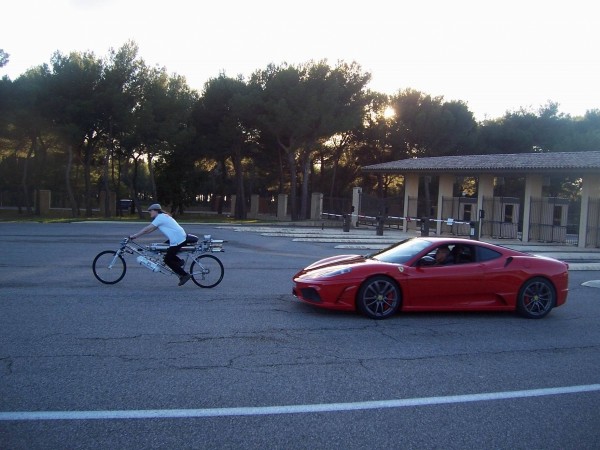 There is no doubt that the feat achieved by Switzerland's Francois Gissy is impressive; but what is more impressive is the fact that he established a new world record of speed and that too on a cycle.
On 7 November 2014, Gissy reached a top speed of 333 km/hr (207 mph) on a bicycle designed by his friend Arnold Neracher at a motor racing circuit in Le Catallet, France. What sets this world record-holding bicycle apart from the rest of its cousins is that it is equipped with a rocket-propelled engine that supplies a thrust of 4.2 kN.
With the exception of the engine, the cycle is entirely homemade by the group of friends in Spain, revealed the official website of the Swiss Rocketman.
The skinny, completely stripped bicycle with a rocket under the saddle -- which could very well turn the 23-day Tour de France into an afternoon of "Fast and Furious" re-enactment -- had a face-off with a Ferrari 430 Scuderia.
The lightweight rocket bike could only be spotted by those with a razor-sharp vision, as it zoomed ahead of the Ferrari, leaving behind a plume of smoke. The GPS installed on the bike indicated that it had achieved a top speed of 333 km/hr during the course of the race.
With the completion of this fete, 32-year-old Gissy broke his own record from 7 October 2013, when a top speed of 285 km/h (177.13 mph) was achieved and the time taken to cover a quarter mile was 7.3 seconds.
For the rocket-propellant engines in the latest bicycle designed by Neracher, highly concentrated 90% hydrogen peroxide was used. Facebook user Dsd Sds explains that when hydrogen peroxide interacts with Oxygen in the atmosphere, heat and water (H2O) is created. The speed of the reaction creates massive heat, which in turn converts the water into steam. The steams exits at high speed as a rocket power engine.
But one must not get too comfortable with this speed, because the makers are promising to come back with a "Spine Crusher rocket bicycle" in 2015 that will break the record of the rocket-propelled bicycle. They are however, still looking for sponsors for the same.