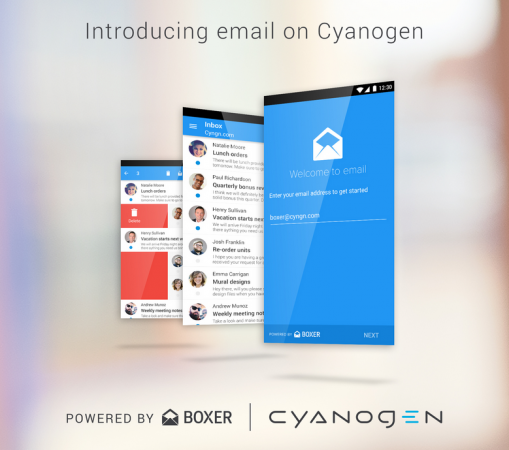 Android ROM manufacturer Cyanogen has already announced that it would release its latest Cyanogenomod 12 OS in the next few weeks.
The new ROM will purportedly feature Google email service, and exchange mail server along with the Boxer email app. The speciality of Boxer email app is that it comes with cloud integration with popular cloud services including Dropbox, Evernote, Box, Google Drive and a few more.
The integrated Boxer email app will allow Cyanogen users to set their own left and right swipe actions, notifications sound, different colours for each accounts, modify LED notifications and create custom inbox folders.
The email app will also allow users to create a task, set a due date, priority level and even set an assignee right from their inbox.
The developer of boxer has mentioned the app will also be available with future commercial smartphones ships with Cyanogen.
The CM 12 will be based on the much-hyped Android version 5.0 Lollipop. The latest CM12 ROM will probably feature the material interface of Android Lollipop and retain the theme engine, quick settings reorganization and customisation, Quick settings ribbon mode, Navigation bar reorganization and customisation, sound panel customization and lock screen quick unlock of CM 11.
According to Cyanogen, the CM12 will also feature an ambient display, aforementioned messaging app and some small tweaks, including weather option in the new Lollipop extended status bar.
Meanwhile, Cyanogen has released a new nightly edition of ROM with a change to its BusyBox source. The new ROM need to be installed manually on your smartphone by unpacking the zip and use fastboot to flash the boot.img using the command fastboot flash boot boot.img on the terminal.
According to Cyanogen, all Cyanogen based smartphones, including Micromax Yu Yureka and OnePlus One, will receive the OTA update of the upcoming ROM. Indian OnePlus One device owners, who won't be getting CyanogenMod update, need not fret because OnePlus is also in the final stage of developing its in-house built Oxygen series Android Lollipop OS which is expected to be released later this month.
In December 2014, Cyanogen dealt a severe blow to OnePlus by abruptly ending software-service to flagship smartphone 'One' owing to exclusive alliance with Micromax's YU Televentures in India.
Micromax has tweeted through their official account that YU Yureka will get the CM 12 update by 26th March, 2015.