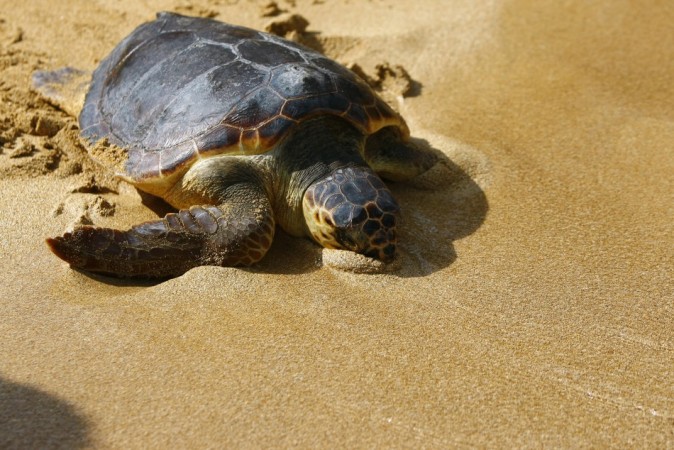 Indian custom officials on Thursday seized at least 10,000 turtles from two passengers who were suspected of smuggling the exotic reptiles from China to Kolkata via Singapore.
Officials found the turtles in three bags at the Netaji Subhas Chandra Bose International airport in Kolkata. The bags were in the conveyer belt, when a passenger noticed a cross on one of them and informed the authorities.
"10,043 numbers of exotic varieties of the turtles have been seized from two passengers, residents of Chennai, who were coming from China to Singapore, and landed at Kolkata Airport," said Nabnit Kumar, Assistant Commissioner of airport customs, according to
AlJazeera.
The two passengers have been detained on charges of smuggling wildlife. The baby turtles, about the size of a walnut, were identified as red-eared sliders (Trachemys scripta elegans), which have a unique red or orange (rarely yellow) stripe behind each eye, according to US Geological Survey (USGS).
These exotic turtles are native to Mexico, central, southern and western US. According to the Global Invasive Species Database, which is managed by the Invasive Species Specialist Group (ISSG) of the IUCN Species Survival Commission, the Trachemys scripta elegans has been the most popular turtle to be used as a pet.
The turtles are said to be in demand in south India as well as in Mumbai. They would have sold for ₹500 each in India. The total worth of the turtles recovered is about ₹60 lakh, said additional principal chief conservator of forests, Pradeep Vyas, according to The Times of India.
Based on preliminary investigations, officials have found that the same route has been used to smuggle such items for the past few days. The siezure from Kolkata also suggests that the city is used as a transit hub for smuggling exotic wildlife species.
The turtles that were recovered have been sent to the animal rescue centre at the West Bengal Forest Department in Salt Lake, where they are being treated. A senior wildlife official told The Indian Express that the turtles were newborn which might have been hatched scientifically. The official also said that about 100 baby turtles died en route from the airport to the rescue centre due to dehydration.