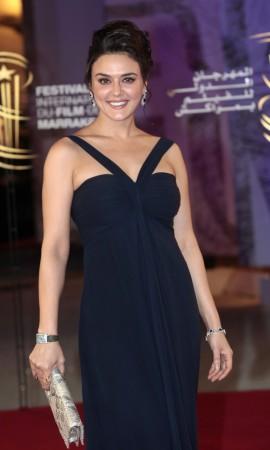 Amid the ongoing heated debate on curvaceous or size zero figure among the top B-town competitors, vivacious actress Preity Zinta has now slammed Kareena Kapoor's recent uncouth statement.
Preity is probably the last one in the industry to follow the herd mentality and has always said and done what she likes without paying much head to the critics.
Well, the actress who is known for speaking her mind, stood in support of curvy actresses like Vidya Balan and Sonakshi Sinha who are often being targeted by rival actresses for being plump.
Preity said that curves or size zero is a matter of individual choice and there is no set rule about how an actress should be.
"I think Vidya Balan is beautiful, gorgeous ... saw her flaunting her curves in the role of southern sex siren Silk in one of 2011's biggest hits 'The Dirty Picture'," she said at the book launch of "Eat Delete".
"I think she is a fabulous actress...What's wrong with her?" Preity said on being asked about her take on the fiery hype about being size zero.
In fact, she credited Vidya for setting a new trend in the industry. She said, "There is always a rule - it takes one to lead and rest to follow. The choice you have to make is whether you are a leader or a follower."
The 37-year-old-actress highlighted that size zero is not the only size that anyone should be mentally pressurised to fit in. "For normal people, it is very unfair to keep saying 'size zero is beautiful'.... there is no such thing that this is the only size," Preity said.
"I feel really bad for the normal people because their pressure is - 'If you eat this diet, you will look like her', which is really wrong, you can't look like anyone else," she added.
Actress Kareena Kapoor, who herself takes the credit of popularising size-zero trend in India, recently targeted curvaceous B-Town actresses including Aishwarya Rai Bachchan, who has gained extra pounds post child's birth, for being "fat."
In a recent interview with TOI, Kareena bluntly stated that: "Being fat is not sexy... Anyone who says that is talking crap," adding that "fat is out."
"Any woman who says she doesn't want to be thin is talking nonsense. It's every girl's dream," she said.
She also said that "It may be a trend now with some actors, but I definitely don't want to look plump or fat!"