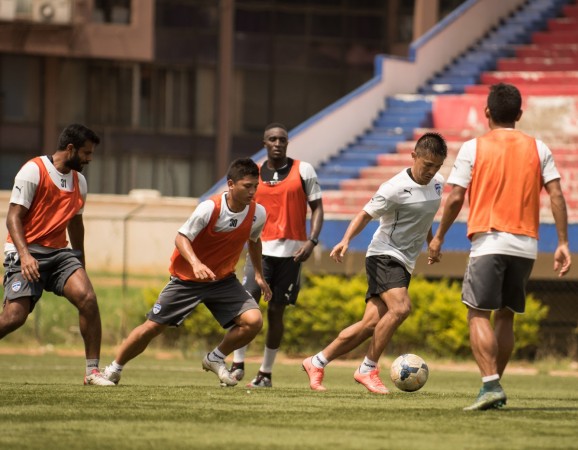 Bengaluru FC could be in for a major worry ahead of their crucial AFC Cup 2016 quarterfinal match against Tampines Rovers in September. Four foreign players of the club are no more a part of the I-League champions as their contracts have not been renewed.
The Indian football club, which have made heads turn since their arrival in the national scene in 2013, recently parted ways with experienced coach Ashley Westwood and the Englishman was replaced by experienced Spanish coach Albert Roca.
Roca, 53, the assistant to Frank Rijkaard for five seasons at Barcelona between 2003 and 2008 and at Turkish side Galatasaray in 2009-10, signed a two year contract with Bengaluru FC earlier this month. His coaching resume also includes managing the Saudi Arabia national football team and the El Salvador national football team.
With a new coach coming on board, the two-time I-League champions are also keen on bringing in new overseas players and as of now, besides defender John Johnson, none of the foreigners including Curtis Osano, Kim Song Yong, Josh Walker and Michael Collins have been retained.
"We have confirmed only one of the foreigners. The rest we will confirm based on what the new coach feels are the right people for the team depending on the available Indian players in the squad," said the club's chief technical officer Mandar Tamhane to Deccan Chronicle.
"As of May 31, Osano was a free agent. The contracts of Josh, Michael and Kim have also not been renewed. These players are free to go anywhere. If the new coach watches their videos and decides he wants to sign them, then we are open to it," Tamhane added. "If by the time he [Roca] arrives, these players have found other clubs, then there is nothing we can do."
Bengaluru FC made history earlier this season by making it to the AFC Cup quarterfinal for the first time since their inception. One of the first and foremost responsibilities of Roca now is to make sure the club progress further in the European competition. However, with the dearth of foreign players in the club now, will he be able to perform well with the Indian players he has at his disposal? That remains to be seen.
"We have to sort this out because we have the [AFC Cup 2016] match in September and we also want them [foreign players] for the pre-season. So it's important that we have the team in shape before that important game," mentioned Tamhane.