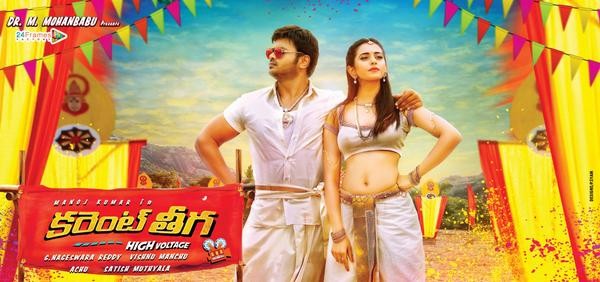 Manchu Manoj's "Current Theega" (aka "Current Teega") has received decent reviews from the critics.
Directed by G. Nageswara Reddy (GNR), "Current Theega" is a remake of Tamil comedy entertainer "Varuthapadha Vaalibar Sangam" ("VVS"). The film has Manoj and Rakul Preet Singh playing lead roles, while Jagapathi Babu appears in a pivotal role. Bollywood actress Sunny Leone makes a special appearance in the film.
"VVS" received good reviews and performed well at the box office. It needs to be seen if "Current Theega" repeats the success of the Tamil version.
Plot: Sivarama Raju (Jagapathi Babu), a village chief, commands huge respect from the villagers. On the other hand, Raju (Manchu Manoj) is a carefree guy who runs a club for the village youngsters. One day, both Sivarama and Raju come at loggerheads over organising a local festival.
Meanwhile, Raju falls in love with Kavita (Rakul Preet), the daughter of Sivaram. She also reciprocates his love, but her father is against love marriages and vows to get his daughters have only arranged marriages. What happens next forms the crux of the story.
Critics have stated that "Current Theega" is a decent entertainer with good laughing moments. The film's first half, comedy and Leone's glamour are the film's highlights. On the flip side, the second half of the film is dull, said the critics.
Check below the review roundup of "Current Theega"
"Current Theega starts on a promising note with some well designed entertainment during the first half. The tempo dips slightly in the second half but is made up during the climax. Manoj's electrifying performance, Sunny Leone and Rakul Preet's glamor and some comedy elements makes this film a decent time pass entertainer," according to 123telugu.
"Although story is wafer thin, movie traveled smoothly without any big hurdles with few shake ups in second half let down the flow. Especially, there is a big dip in entertainment quotient of GNR for the second half," said Srivaas of CineJosh.
Performances: "Typical role for Jagapathi Babu and he's fine. Manoj with his histrionics is partly good but at times over the top. Rakul Preet did play the village belly role to good effect and is glamorous on screen. She is a big find for Tollywood in the last year or so. Sunny Leone's cameo is for pure attraction and she's a poor actor," according to Andhraboxoffice.
Technical Aspects: "Music composed by Achu has already become very popular. 'Padahaarellainaa', 'Pilla O Pilla' and 'Sunny Sunny' are the best compositions in the album. Background score isn't bad either. Cinematography is appreciable. Dialogues are entertaining in parts. Art Direction is good. Editing is crisp. Production Values are good," according to APToday.
"Current Theega has a very simple story. There is not much to rave about the story and screenplay, but the director made sure that there is ample entertainment in the film right from the start of the movie. Manchu Manoj is very good in the role of a carefree village youth. His presence and performance makes the film very enjoyable," according to Gulte.
Verdict: Decent, Watchable Entertainer