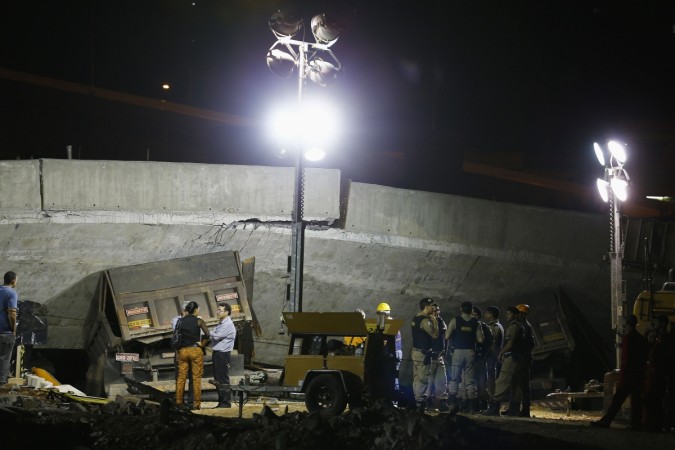 An under construction flyover has collapsed in a World Cup host city, killing two people and injuring dozens and drawing world's attention on the question of Brazil's preparedness for the event being held in the country as well as whether they deserved to host the World Cup.
Pictures from the scene in Belo Horizonte, showed the front of a commuter bus being crushed along with two unoccupied lorries, while a car was also seen crushed as the concrete and steel bridge fell on to a busy traffic below.
Flyover has collapsed in World Cup host city Belo Horizonte, local reports of at least 2 fatalities pic.twitter.com/okttIsXdAA

— Dan Roan (@danroan) July 3, 2014
#WorldCup Bridge collapse in host city Belo Horizonte pic.twitter.com/rrDQNqdYfs via @danroan — Rob Byrne (@TrafficSA) July 4, 2014
The south-eastern Brazilian city will be hosting a World Cup semi-final match next week.
"It was a terrifying thing. I still can't believe what I saw. I was standing nearby talking with my daughter. Suddenly the viaduct crashed down all in one goes, it happened in an instant," Metro quoted a witness.
The BBC has cited health department of the state of Minas Gerais (of which Belo Horizonte is the capital) as saying that the bus driver and another person were killed, and 22 others were injured in the incident.
Some local media were widely cited as saying that people could have been trapped inside those vehicles crashed or below the collapsed overpass.
Edgard Estevo, chief firefighter at the scene, told media that his team were unable to search for victims until the bridge was secured.
"We need to make the area stable so we can securely go in there and find out what the situation is underneath."
Meanwhile, the incident has invited a worldwide criticism on the poor preparedness and management of the World Cup amid Brazilians alleging again that the country had simply squandered money that could have been used elsewhere.
People were seen gathered in the accident scene holding banners that read "Cup dirty with blood" and "This is the country of the cup?"
"Brazilian government did not charge any tax from FIFA and public money was spend on this ridiculous football competition that could have been held in another country," said an individual named Rosa Harding while commenting on the incident on Facebook.
"Brazilian government does not care for its people and this World Cup has political interests only," she added.
Another person called Michael Lufc Jordan said: "Tragic stuff, it should never have been allowed to be hosted in Brazil. It's been a budge job from day one!"
"The Olympic games in 2 years time? They had years to get ready for the football, it was poorly planned, poorly managed and badly thought out," opined Jan Davidson.
"Gowd help them but here we go, well done Fifa give it to a country that has no health and safety. Where other countries could have taken on the world cup (sic)," was another comment from a Matt Boyce.